As the first and foremost development in the amusement complex of Sun World Hon Thom Nature Park invested by SunGroup in Southern Phu Quoc, Hon Thom Cable Car System stretches 7,899.9m totally and connects An Thoi Town via Dua Islet and Roi Islet to Hon Thom Islet, thus giving Phu Quoc tourism a boost with such a well-perceived, well-operated and fascinating product. With these measures, Hon Thom cable cars were registered by the Guinness as the World's longest cable car route, to be officially open to the public from February 15, 2018.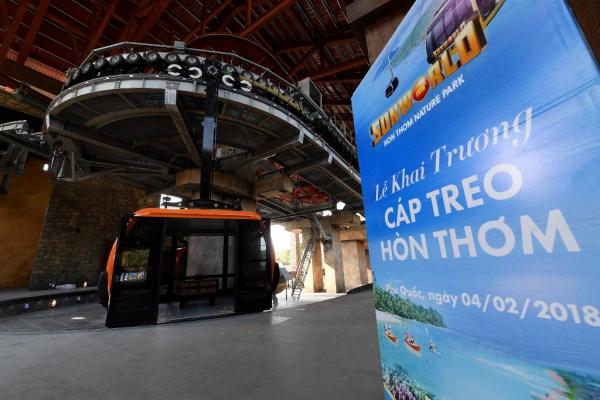 The whole system comprises two terminals and 6 abutments, including the largest one T4 that rises 174m. Designed with 69 cabins, each of which can accommodate 30 guests and operates at the maximum speed of 8.5mps, Hon Thom cable cars halve your commuting time from An Thoi to Hon Thom Islet to 15 minutes instead of 30 minutes by canoe. All cabins are equipped with complementary Wi-Fi and lighting system.
This route shall carry passengers on a delightful midair voyage and earn you all a 360-degree view of the otherworldly wonders of this islet, from the sea, islets and greenery to beaches of An Thoi Islands in Southern Phu Quoc. Stepping down from the cabins, visitors can freely roam fine white sandy beaches and calm sapphire waters by the perennial greenery and adeptly piled old grave rapids. Various services and water sports have been put in operated in Sun World Hon Thom Nature Park in its first phase such as parasailing, bounce raft, scuba diving, underwater walk or kayaking… that will definitely intensify your experiences.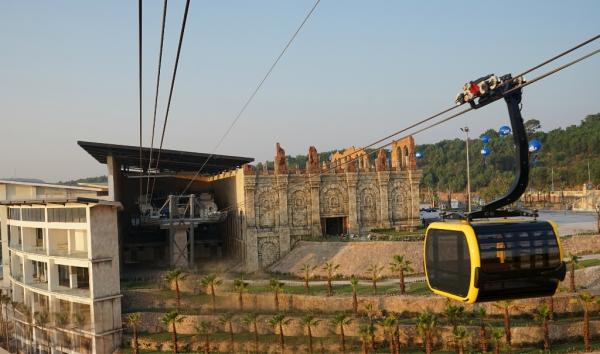 On occasion of Hon Thom Cable Car launch, all customers are entitled to great bonuses: Buy 1 cable car ticket for 2 – For first 500 customers everyday from February 18 to 22, 2018 and a lucky draw of hundreds of gifts everyday from February 18 to 27, 2018: iPhone X smartphone, Oppo F1S smartphones, Sun World suitcase, cable car ticket vouchers and catering service vouchers worth VND100,000.
Let's get aboard!
For further details, please visit honthomsunworld.vn