The southern part of Phu Quoc island is always rated as the pearl of Vietnam tourism. So what is special about Southern Phu Quoc that makes hundreds of thousands of tourists visit each year? Let's explore "all" of the most unique attractions, entertainment and dining in Southern Phu Quoc in the following article!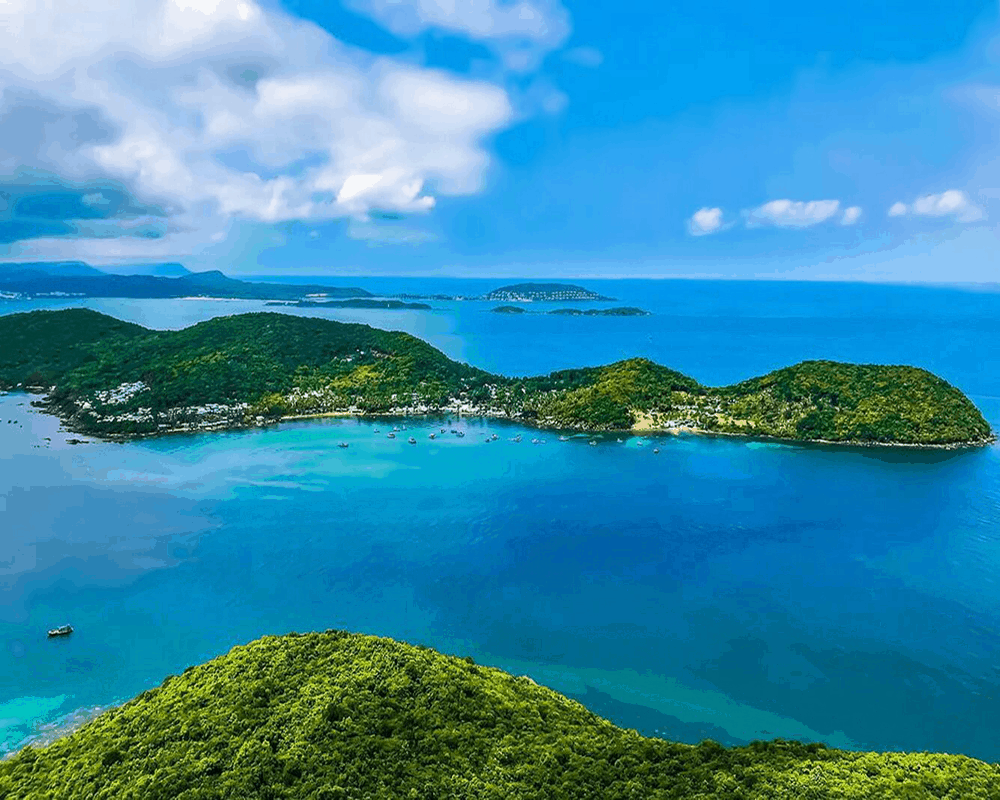 How to go to Southern Phu Quoc?
To get to the southern pearl of Phu Quoc Island, you can choose to ride a motorbike, take a taxi or rent a car depending on your interests and budget.
Motorbike: Suitable for young people who like backpacking to explore nature. The cost of renting a motorbike is about 150,000 VND/car/day. Note: the road from Southern Phu Quoc is beautiful but a bit difficult, you should go during the daytime for safety reason.
Car, taxi: Suitable for most tourists, especially families with young children. Car rental is from 600,000 VND/car if moving from Phu Quoc airport.
What to play in South Phu Quoc?
Not only famous for its pristine beautiful nature, Southern Phu Quoc also reminds visitors of its interesting attractions. They are:
Rhodomyrtus tomentosa berries wine establishments – Southern Phu Quoc specialties
Coming here, tourists will visit Rhodomyrtus tomentosa berries forest and Rhodomyrtus tomentosa berries wine establishments, enjoy products from Phu Quoc genuine Rhodomyrtus tomentosa berries forest such as syrup, treacle, wine, jam, candy …
If there is a need for shopping, tourists can buy at the establishments and products are neatly, carefully packed to consign for the flight home. There are 3 famous Rhodomyrtus tomentosa berries wine establishments for tourists to visit such as:
o Phat Rhodomyrtus tomentosa berries establishment (also known as Sim Son wine)
o Thanh Long Rhodomyrtus tomentosa berries wine
o Bay Gao Rhodomyrtus tomentosa berries wine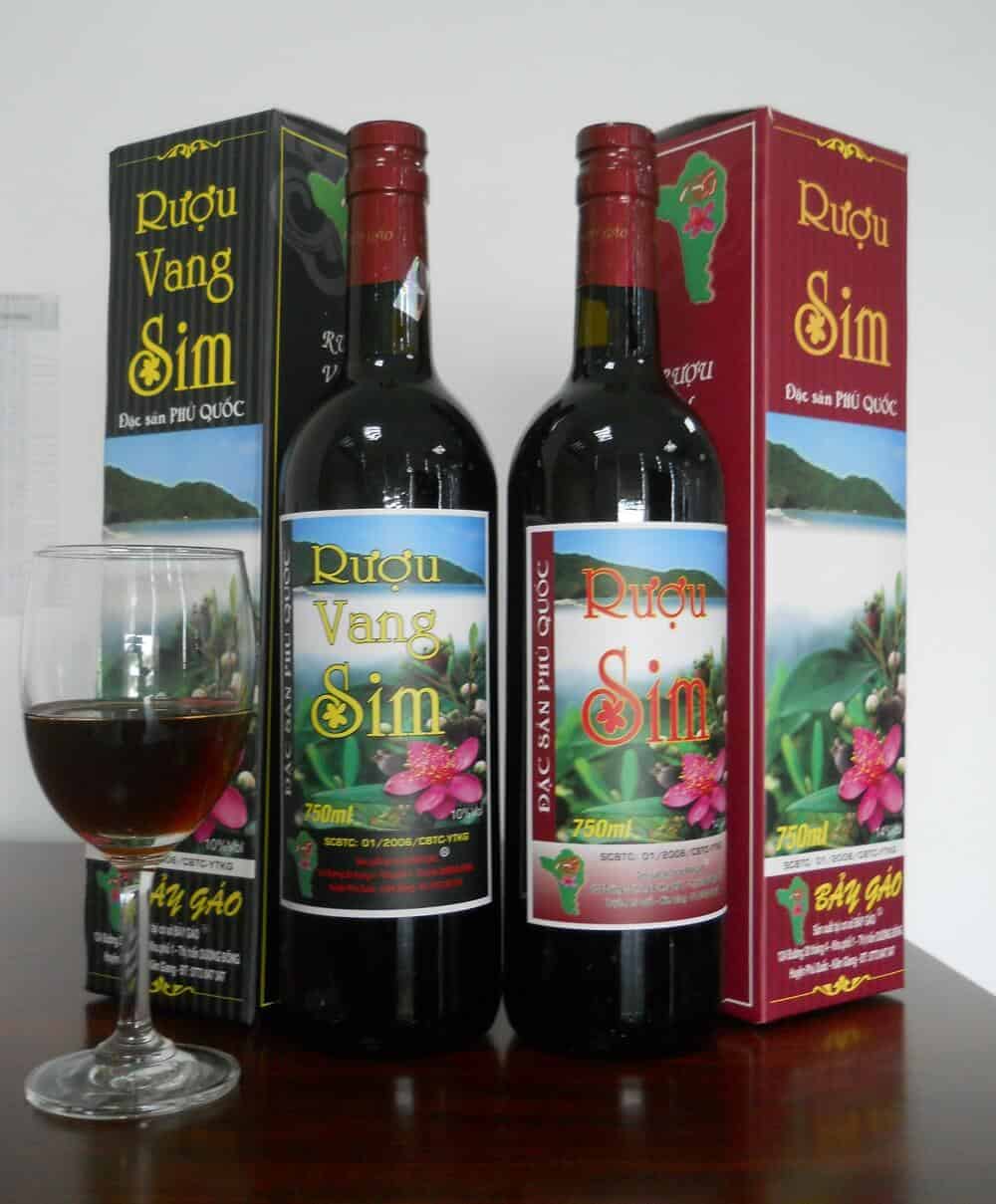 Pearl farming areas – a precious gift in Southern Pearl island
Referring to Phu Quoc specialties, surely tourists can hardly ignore pearls – the natural quintessence of the beautiful island. Therefore, when exploring Southern Phu Quoc Island, do not miss the 3 famous pearl farms here. They are: Ngoc Hien pearls, Quoc An and Long Beach pearls.
In addition to being introduced to the elaborate pearl culture process as well as seeing the pearls pecking, tourists can also shop for valuable pearl products such as necklaces, bracelets, rings right at the farms.
Note: If you buy pearls here, you should keep the receipt after buying for product exchange or product warranty.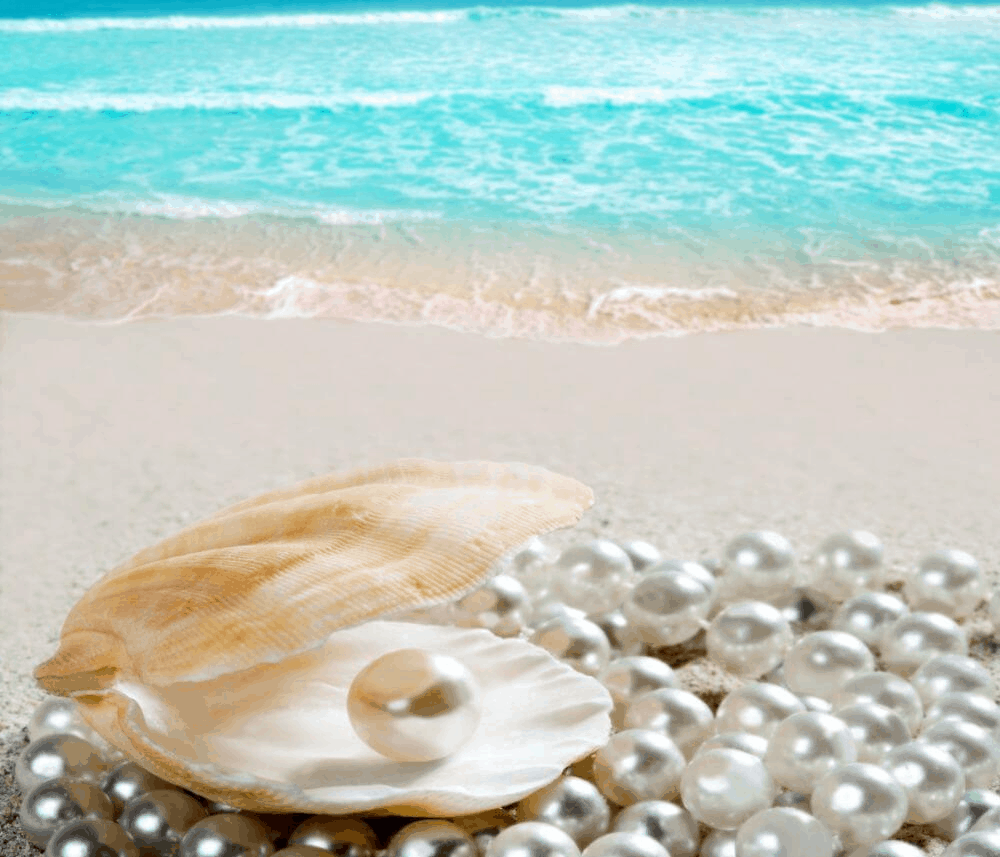 The barrel houses producing fish sauce – the soul of Southern Phu Quoc
Fish sauce is considered the soul of Southern Phu Quoc in particular and the island of Phu Quoc in general. Tourists can choose 3 famous fish sauce production facilities here to learn and see firsthand the elaborate process of making fish sauce. That is:
o Khai Hoan fish sauce barrel house
o Thinh Phat fish sauce barrel house
o Phung Hung fish sauce barrel house
Note: if you want to buy fish sauce as a gift, road is the best travel option because the airlines do not allow fish sauce consignment. You only need to register with the Barrel houses for your fish sauce to be sent home.
Phu Quoc prison – an illustration of the heroic history
The whole heroic history of the nation during the anti-American and anti-French wars will be recreated at Phu Quoc prison located in the south of the island. Valuable artifacts, visual documents make this the place not to be missed in your journey to discover Southern Phu Quoc Island.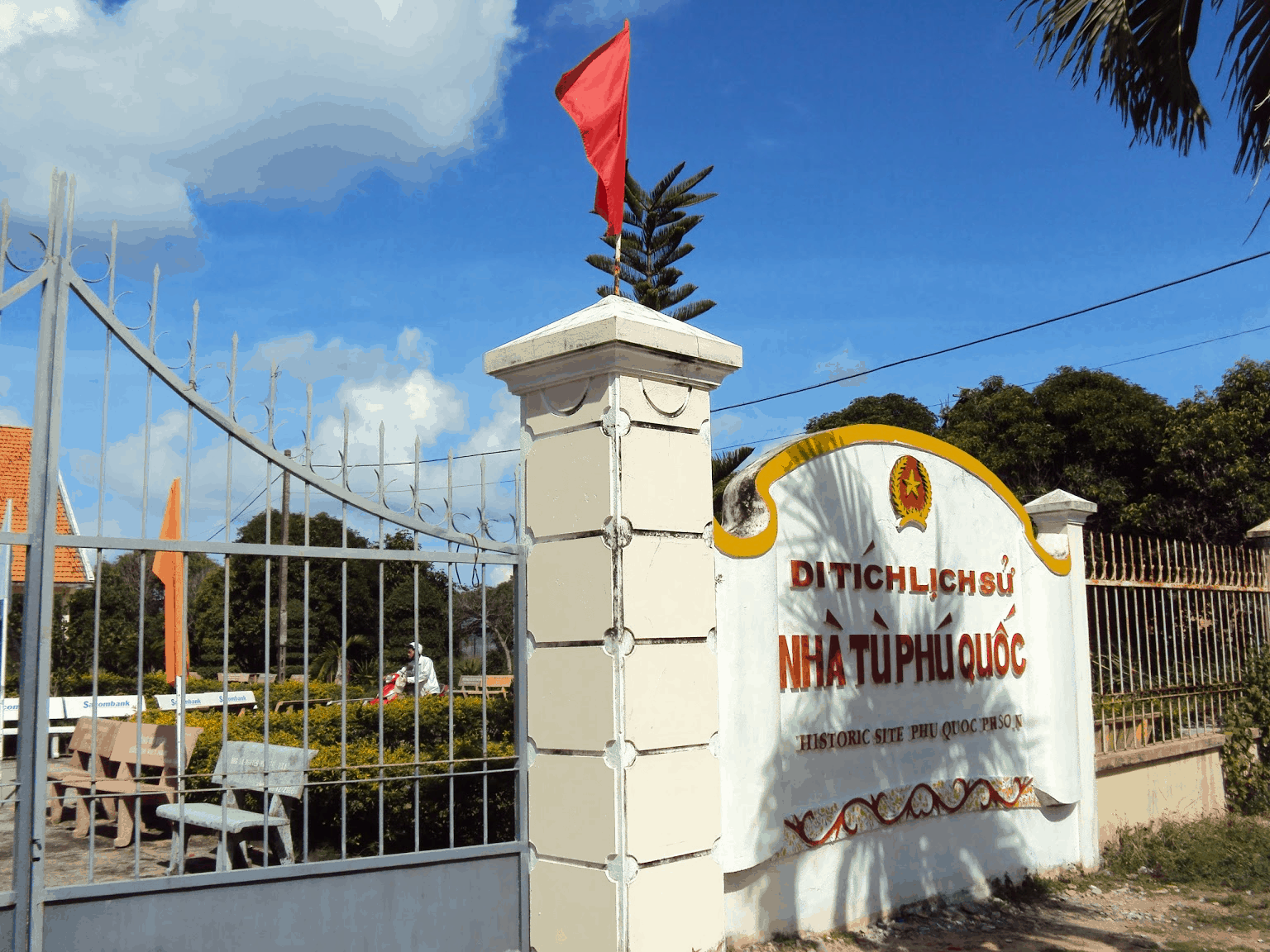 Ho Quoc Phu Quoc Pagoda – a new spiritual tourist destination
Ho Quoc Phu Quoc Pagoda, also known as the Pagoda of Mr. "Dung", has been a new spiritual tourist site in the southern island of Phu Quoc since 2013. Ho Quoc Phu Quoc Pagoda is based on mountains with sea views, and is the focal sacred place that attracts hundreds of thousands of tourists.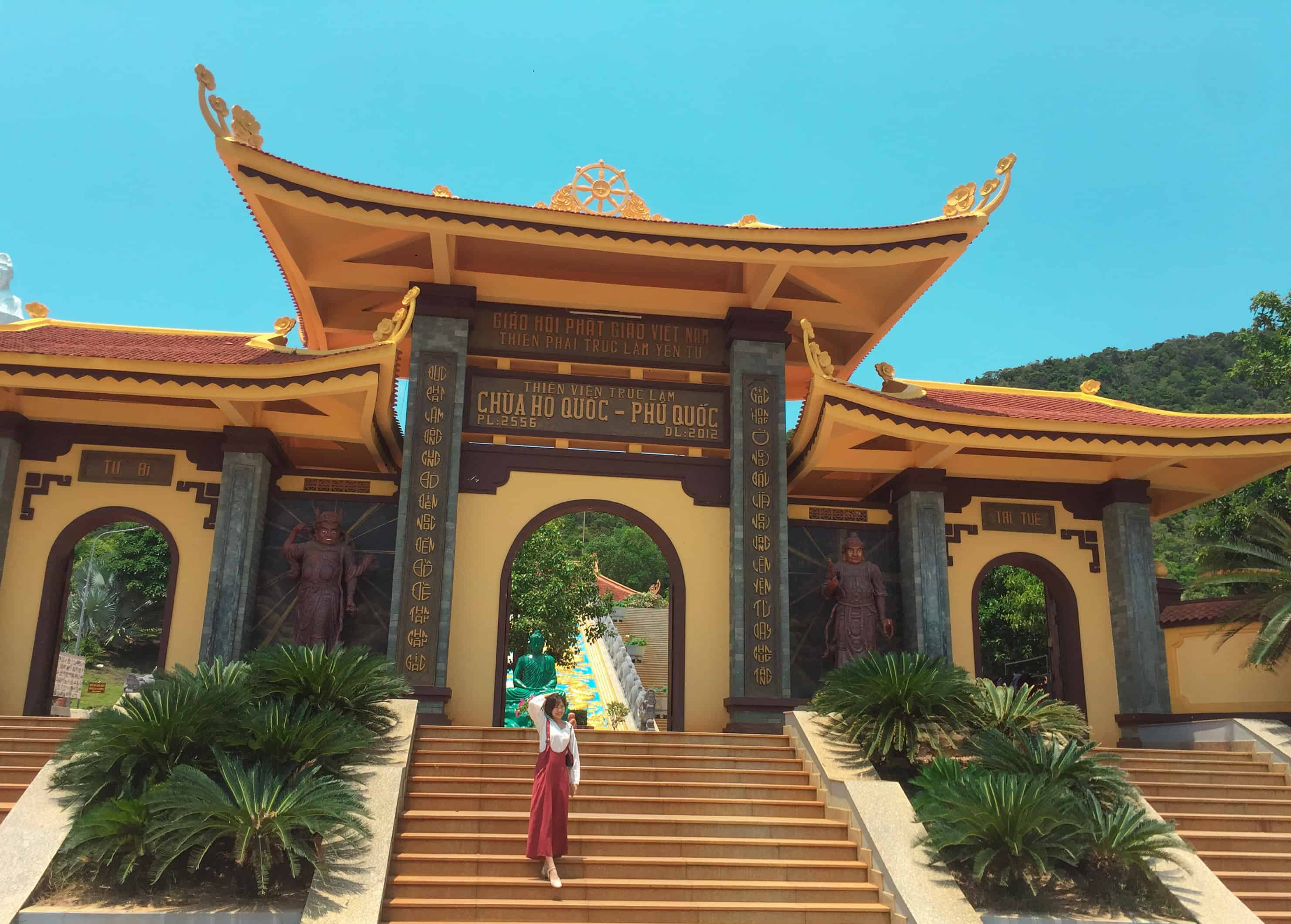 Pepper gardens – the birth place for thousands of check-in photos
There are a lot of Pepper gardens in the South of Phu Quoc Island, a famous check-in place for many young people with beautiful green corners. Coming to the pepper gardens, tourists will try and be introduced the best types of pepper – the famous specialty of Phu Quoc.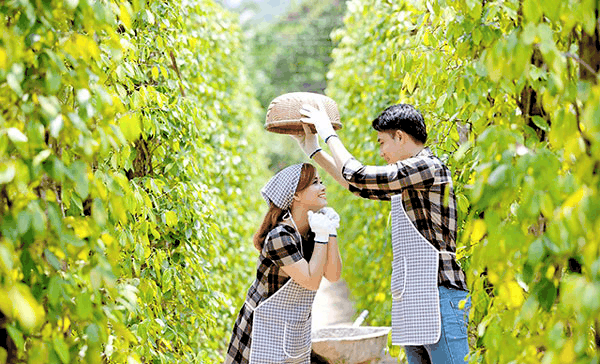 An Thoi Port – explore the interesting life of fishermen
Boats floating on the sea, enthusiastic fishermen rowing boat, pulling fish nets in the vast ocean… If you visit Southern Phu Quoc Island, do not forget to visit An Thoi Port to discover interesting life of fishermen here.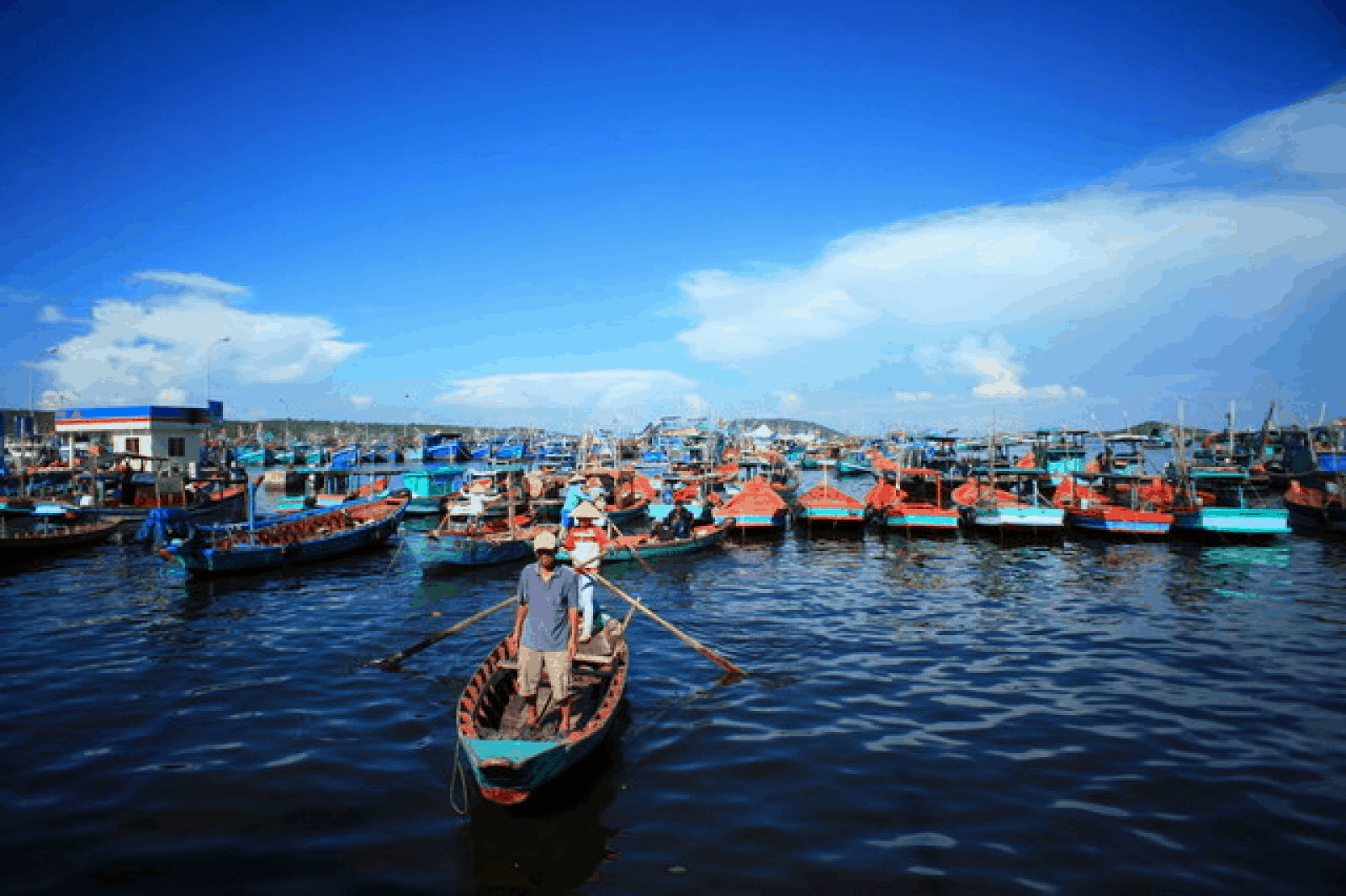 Bai Sao Beach – Natural masterpiece of Southern Phu Quoc Island
Bai Sao Beach is considered to be one of the most beautiful beaches of Pearl island with clear blue water and fine white sand beach. Coming to Bai Sao, besides bathing, sightseeing and enjoying the fresh air, tourists do not miss the fresh seafood here.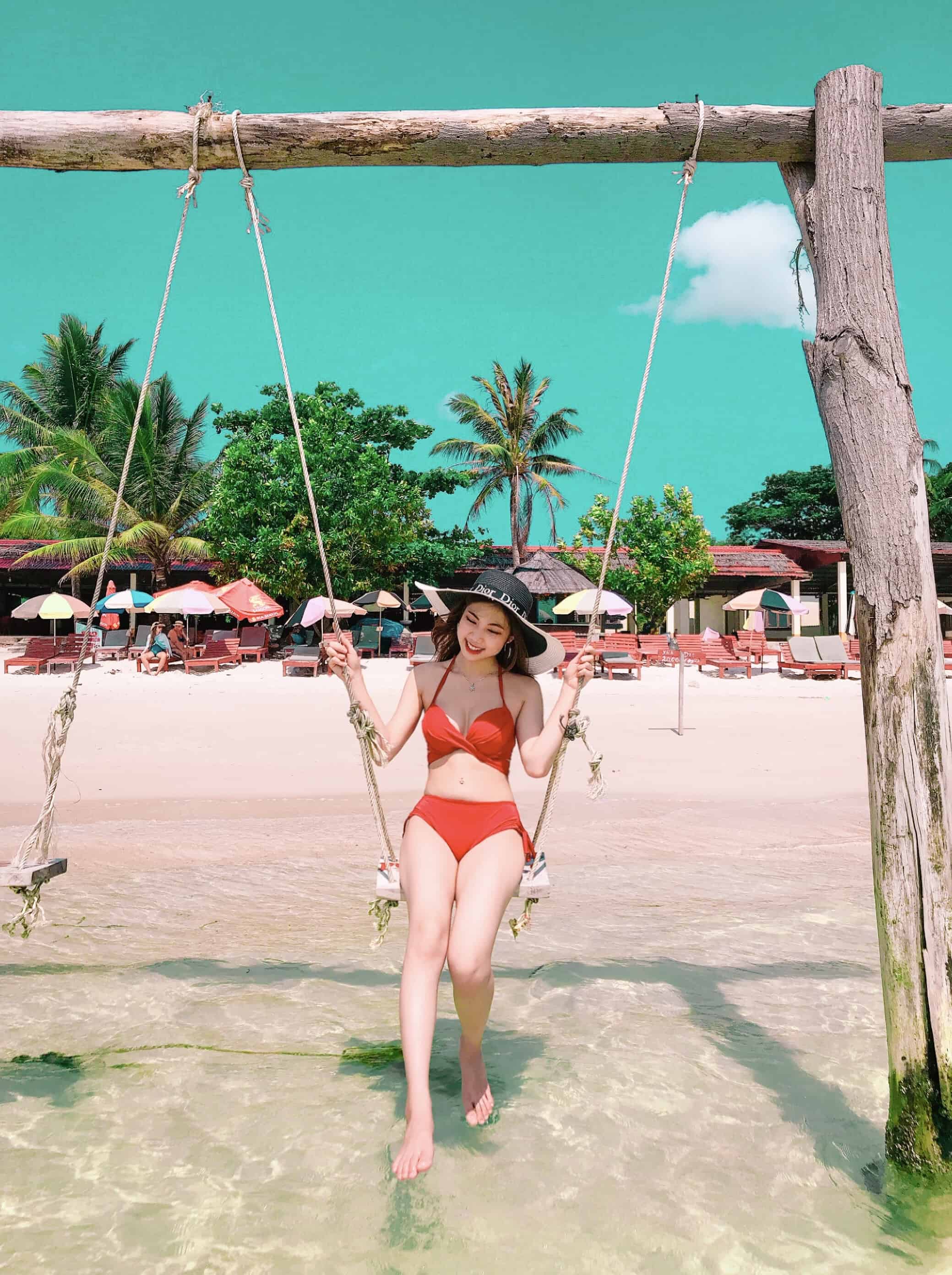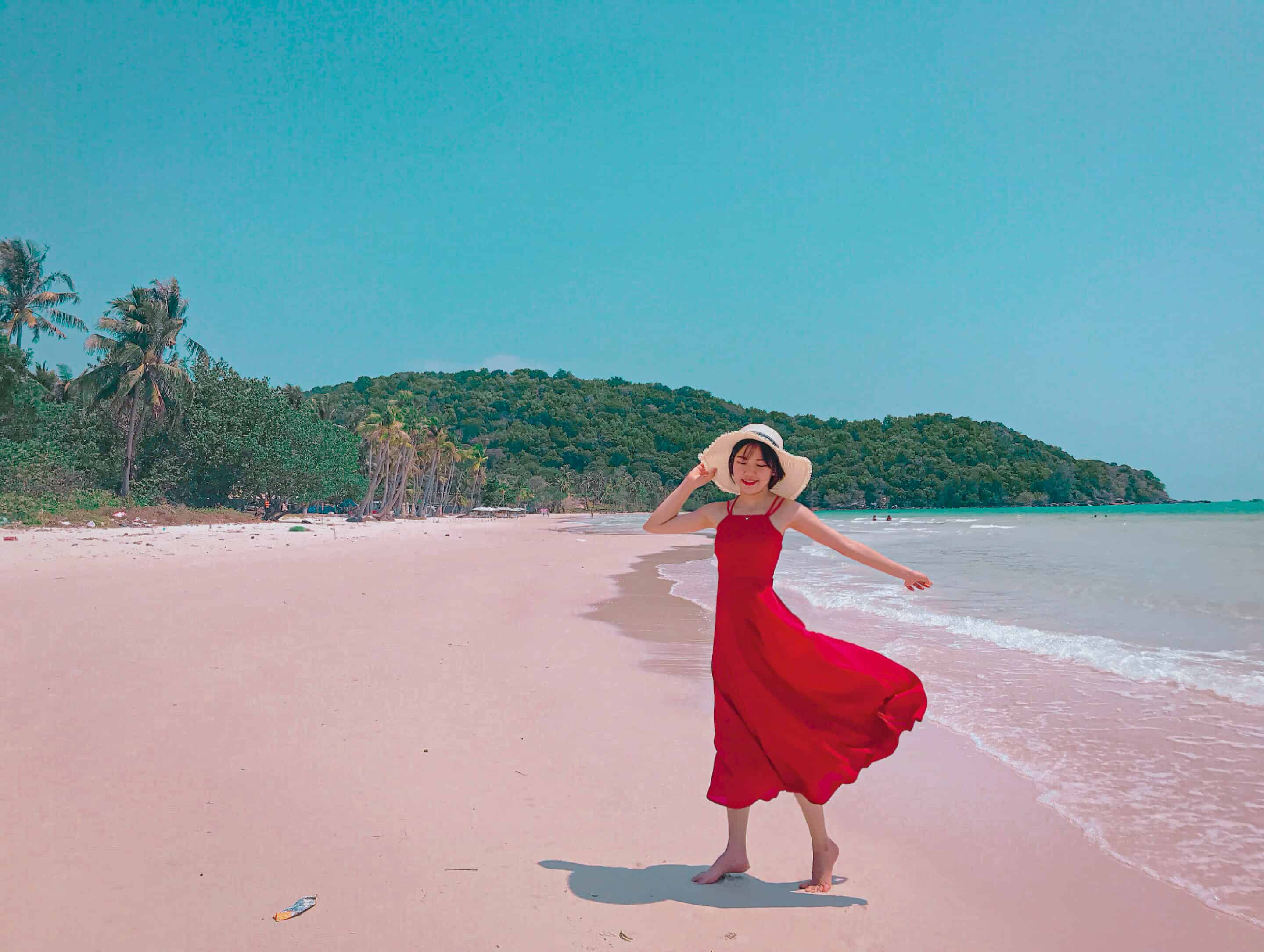 An Thoi archipelago: Hon Mong Tay, Hon Dam Ngang, Hon May Rut
3 islands of Hon Mong Tay, Hon May Rut, Hon Dam Ngang have recently been favored by tourists. Not only can you swim in the clear sea, you can also dive into the coral reefs and enjoy the freshest seafood in Southern Phu Quoc Island when visiting these 3 beautiful islands.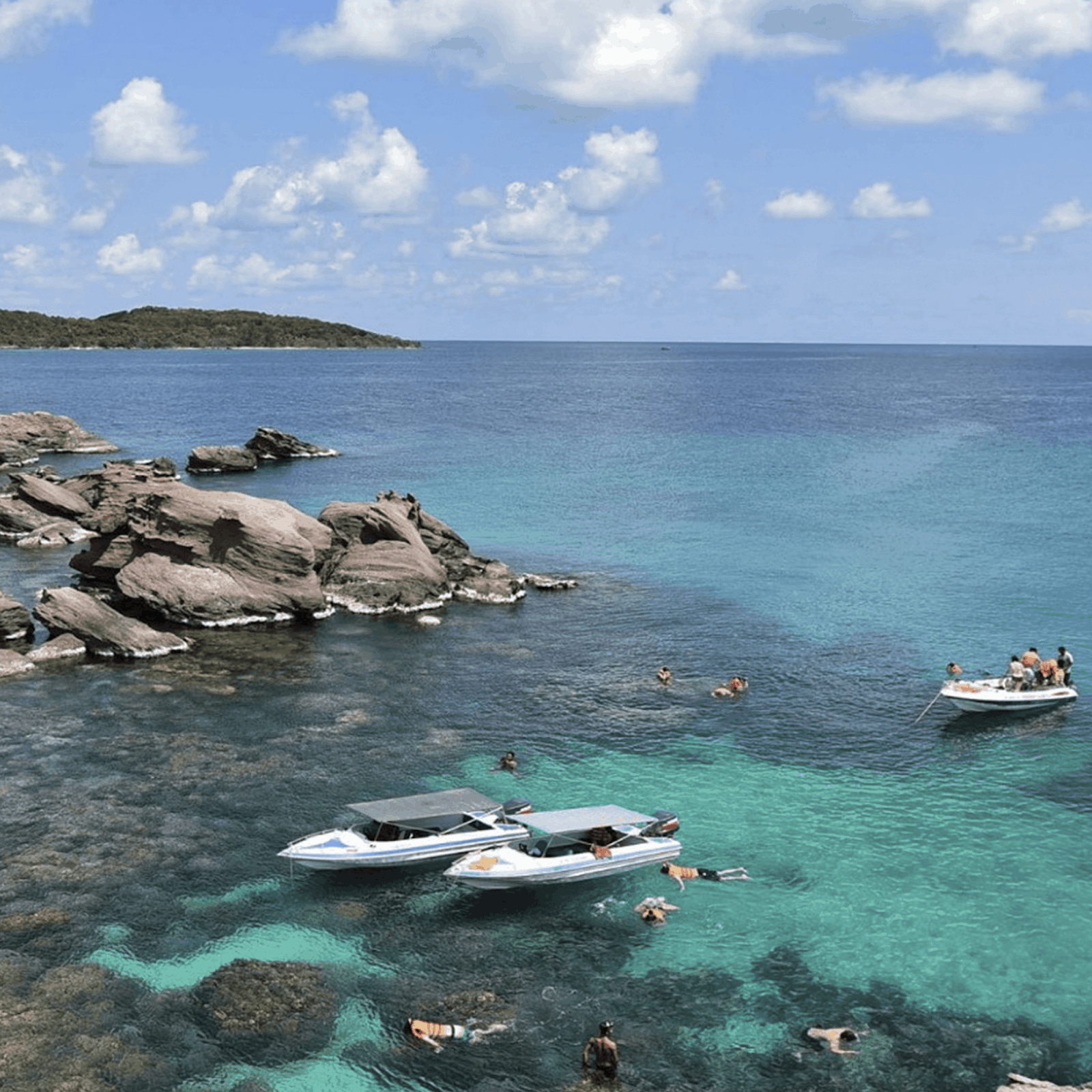 Excursions on Hon Thom Cable Car – The longest cable car in the world
Coming to Southern Phu Quoc, tourists can not miss the experience of admiring the beauty of Southern Phu Quoc Island from above with Hon Thom Cable Car – the world's longest 3-wire cable car with a length of 7,899.9m.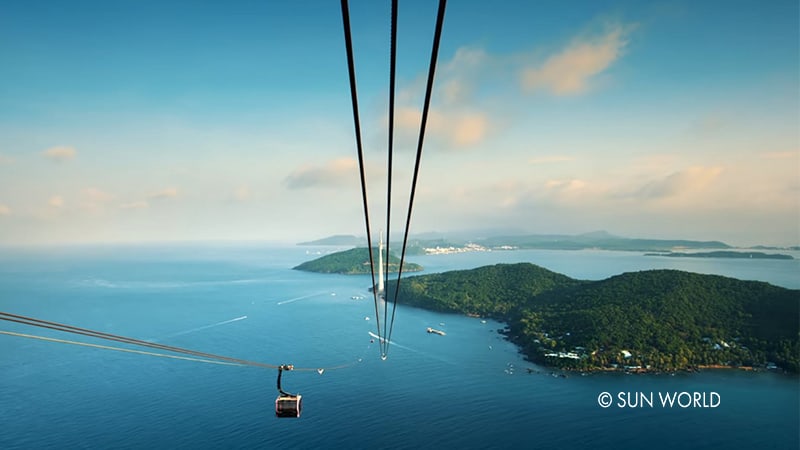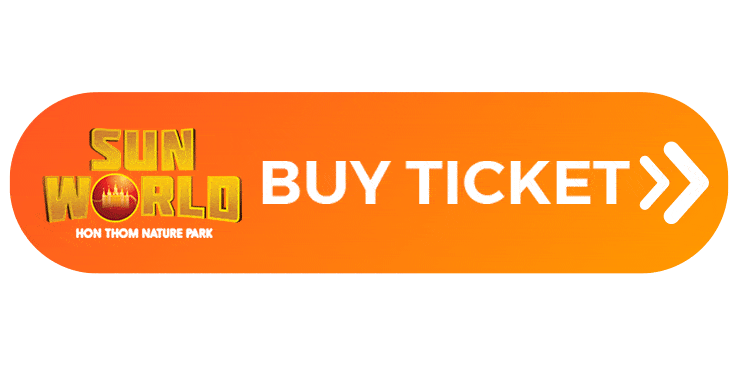 All the wild and poetic beauty of the fairy Southern Phu Quoc will appear before your eyes: emerald sea, high sky with sandy beaches, green trees whispering in the wind. In particular, you will find your soul small, peaceful when watching the sweet sunset on the sea from the cable car.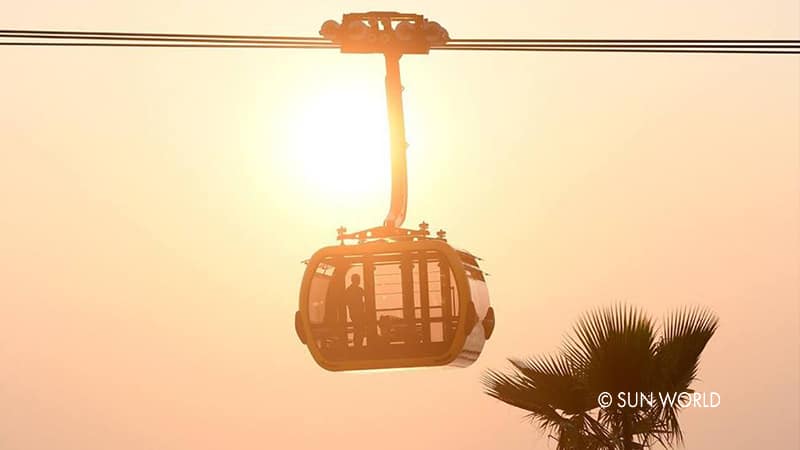 Sun World Hon Thom – endless fun party in Southern Phu Quoc
Coming to Sun World Hon Thom, tourists are treated an endless fun party with the appetizer of an impressive cable car across the sea and the unique landscape of the Mediterranean breath.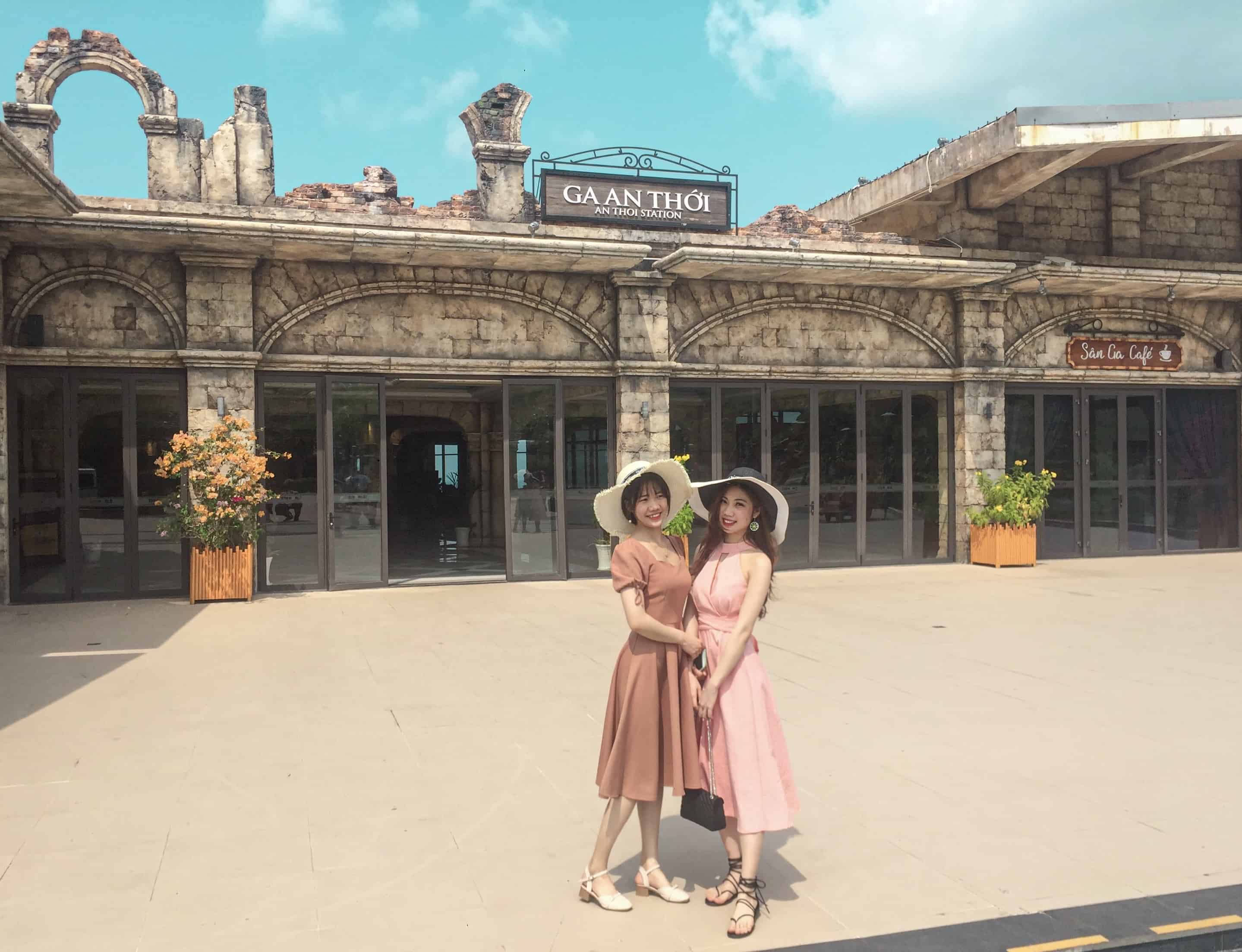 Next, you will "have fun and forget the way back" at Aquatopia Water Park – a modern water park with the leading scale in Southeast Asia. Just launched in late December 2019, Aquatopia impresses with 21 thrilling games and 6 check-in zones with unique Aboriginal style.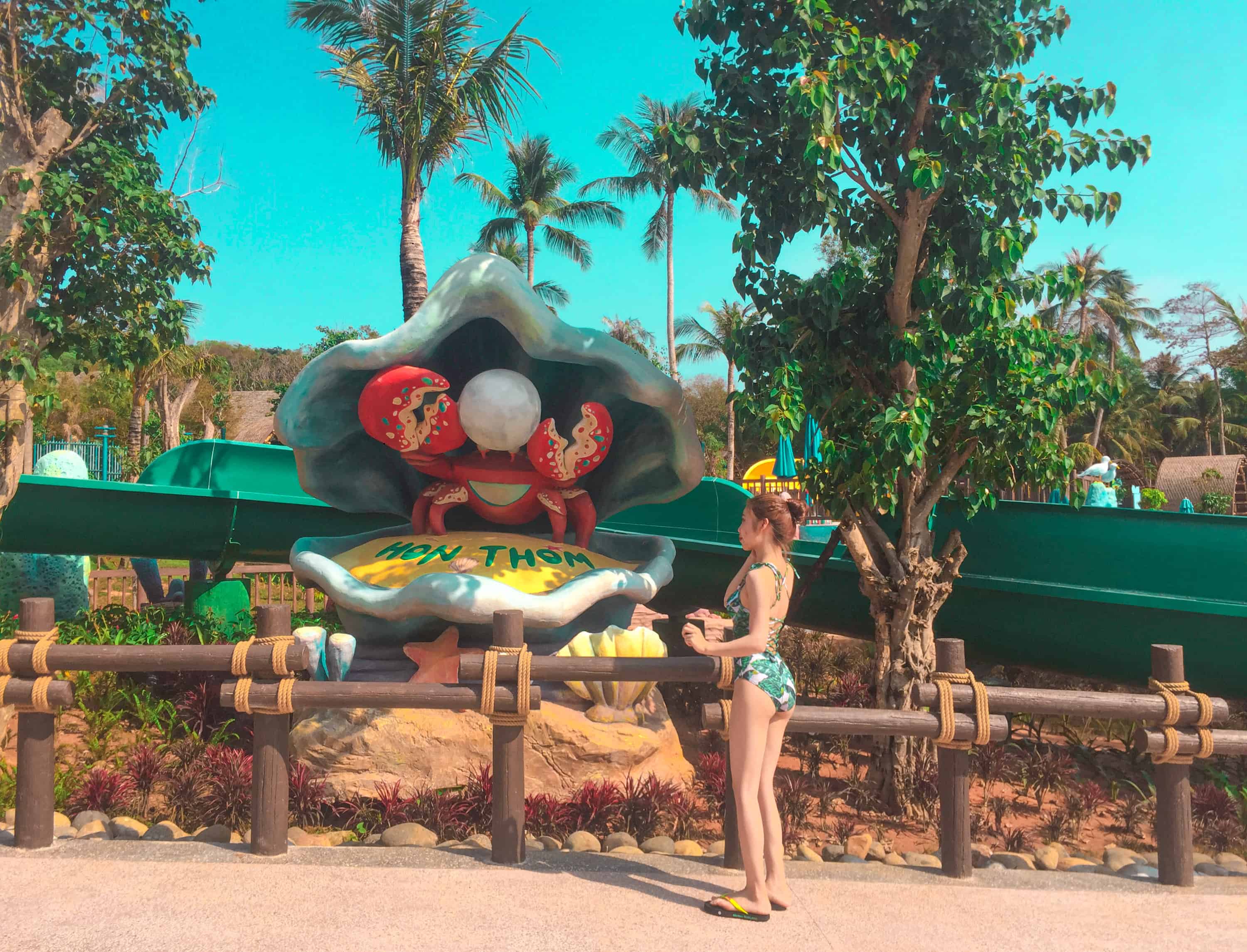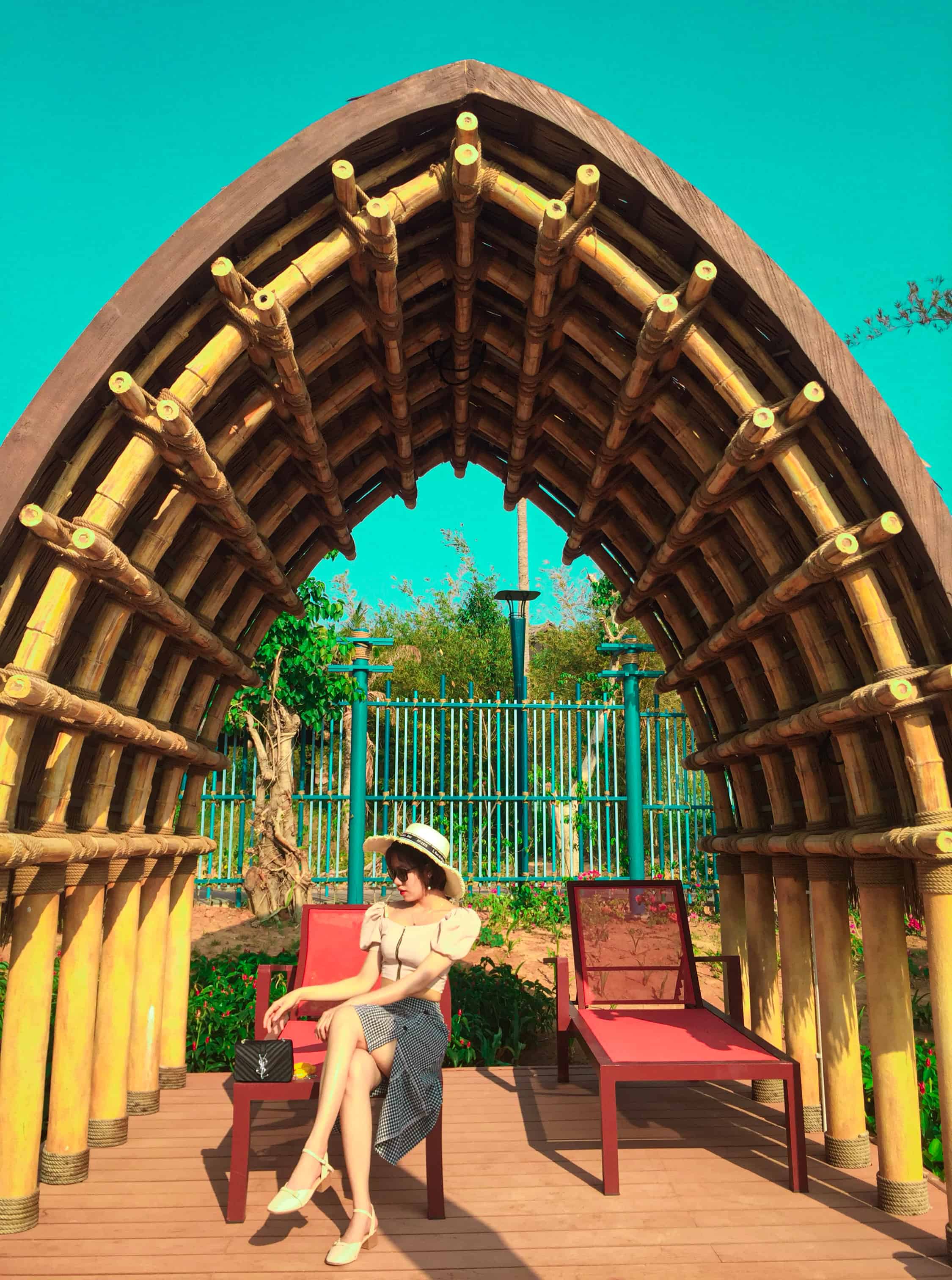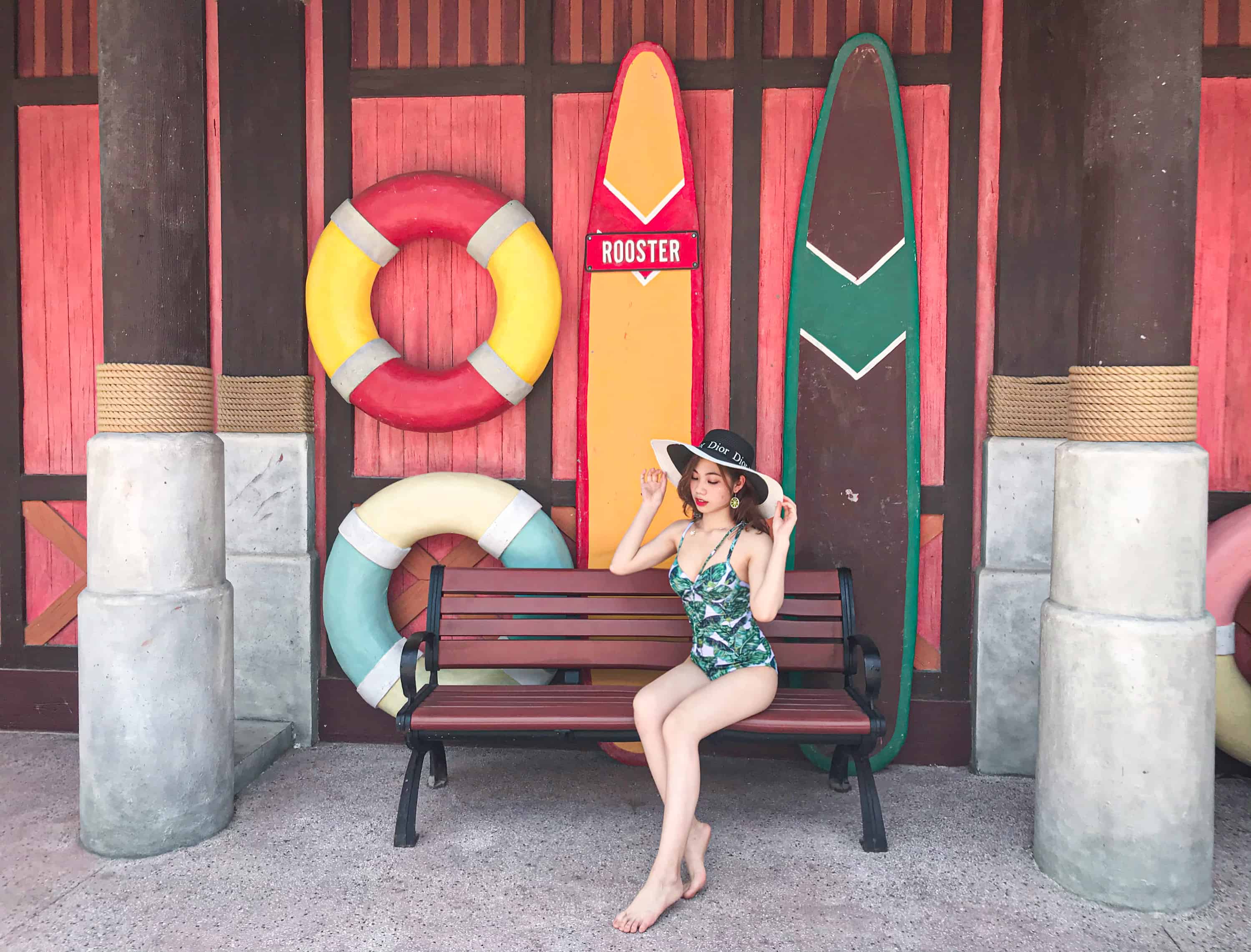 Also, do not miss many fun activities on the sea such as kayaking, floating houses…
What to eat in Southern Phu Quoc?
Coming to Phu Quoc in general and to the South Island beaches in particular, tourists cannot miss seafood dishes with the breath of the sea. Including:
Grilled Bien Mai scallops
This is considered a unique and exotic sea and island cuisine in Phu Quoc. The crispy taste blends the richness and the spiciness of chili salt, grilled scallops is an attractive dish not to be missed when coming to Southern Pearl island.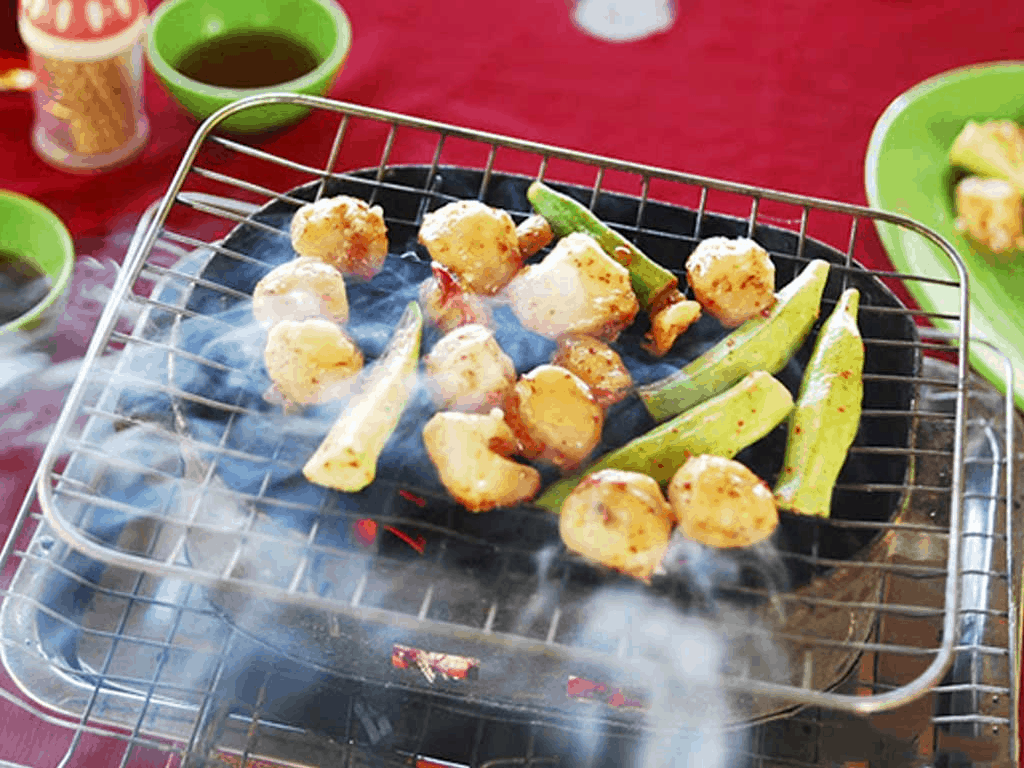 Grilled Jack mackerel – the breath of the ocean.
The delicious, sweet fish meat combined with the characteristic fragrance of lemon and pepper offers an unforgettable taste for tourists to enjoy. This is a dish that is highly appreciated by and unforgettable to tourists in Southern Phu Quoc Island.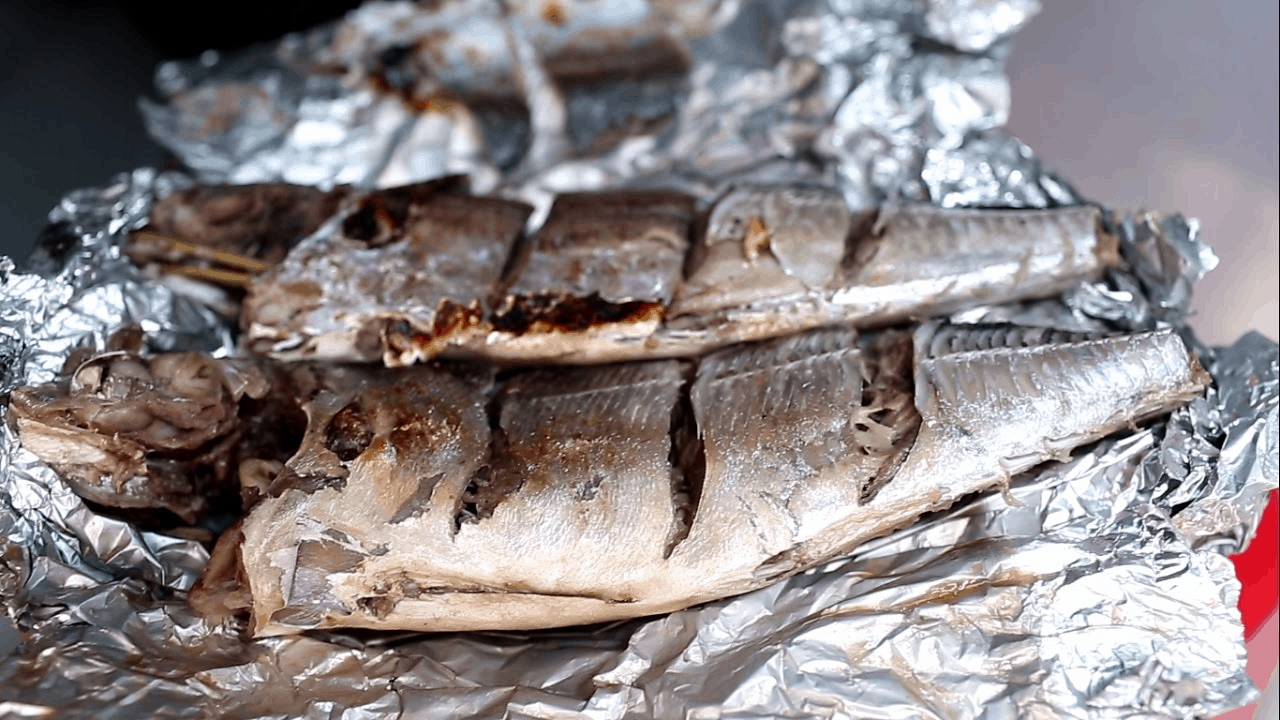 Herring salad – the predisposition to seafood lovers
Herring salad of Southern Phu Quoc is served with rice paper, combined with raw vegetables, shredded coconut, peanuts and fish sauce. The taste of soft, sweet and sour herring, combined with the thin rice paper and the sauce, make every seafood lovers fall in love.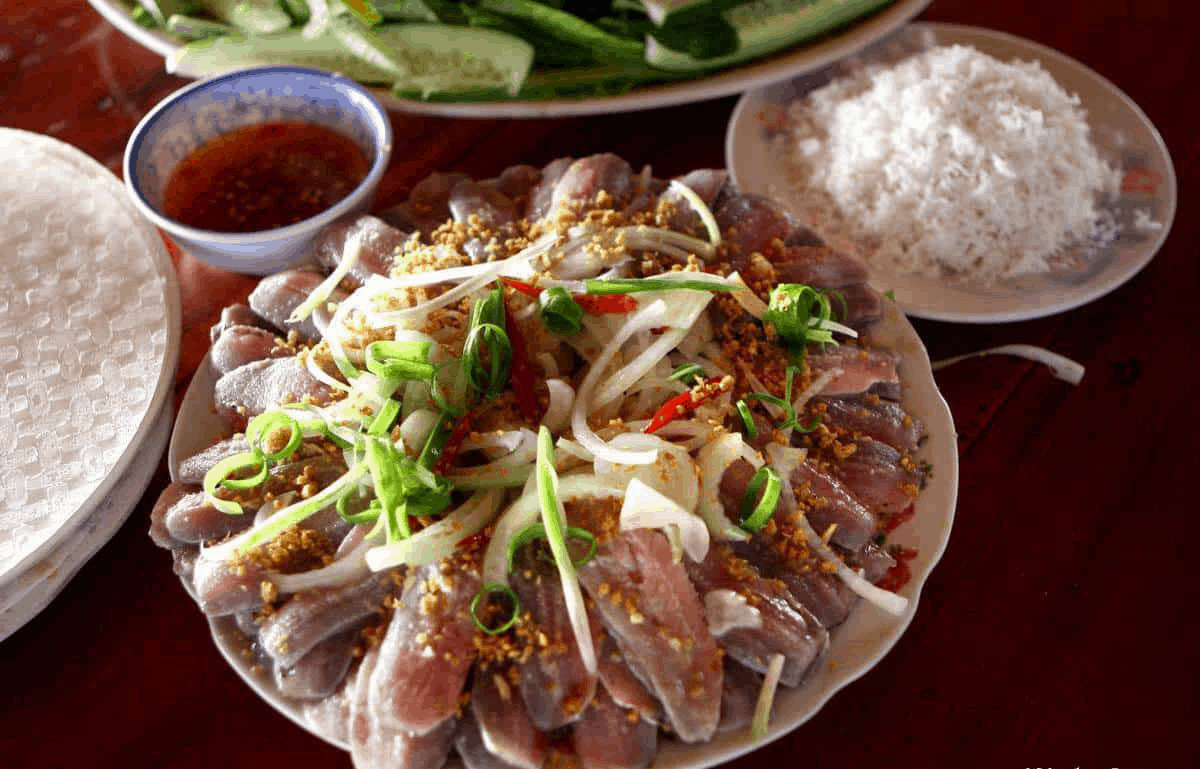 The fragrant grilled sea urchins with pork fat and onion
The unique flavor of sea urchins combined with the sauce and pork fat and onion, the "memorable" smell for diners from the first time to enjoy. In particular, this is also an extremely healthy dish with the good effect to the kidneys and blood circulation.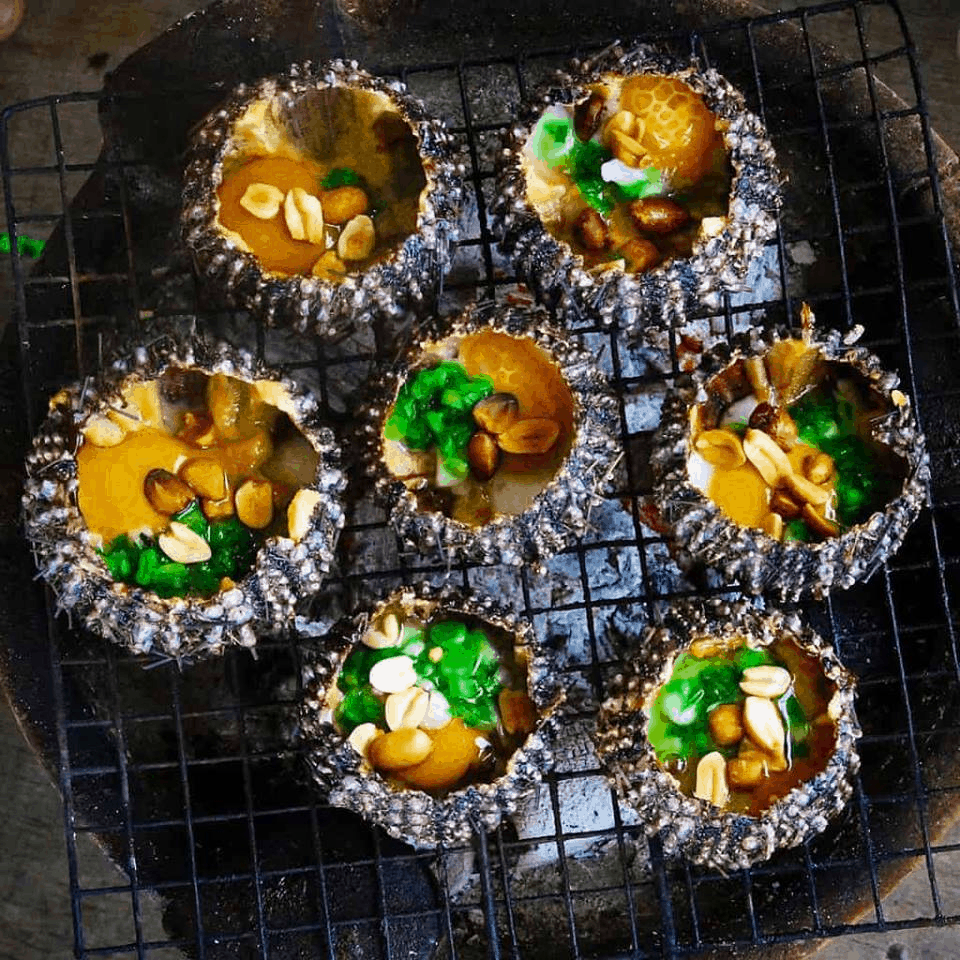 Sea urchins porridge – an attractive, strange dish to the mouth
In addition to the grilled sea urchins with pork fat and onion, tourists can also enjoy the unique sea urchin porridge in Southern Phu Quoc. The taste of porridge is strange and different from the seafood you have ever eaten. Therefore, do not miss the delicious food when visiting Southern Phu Quoc Island.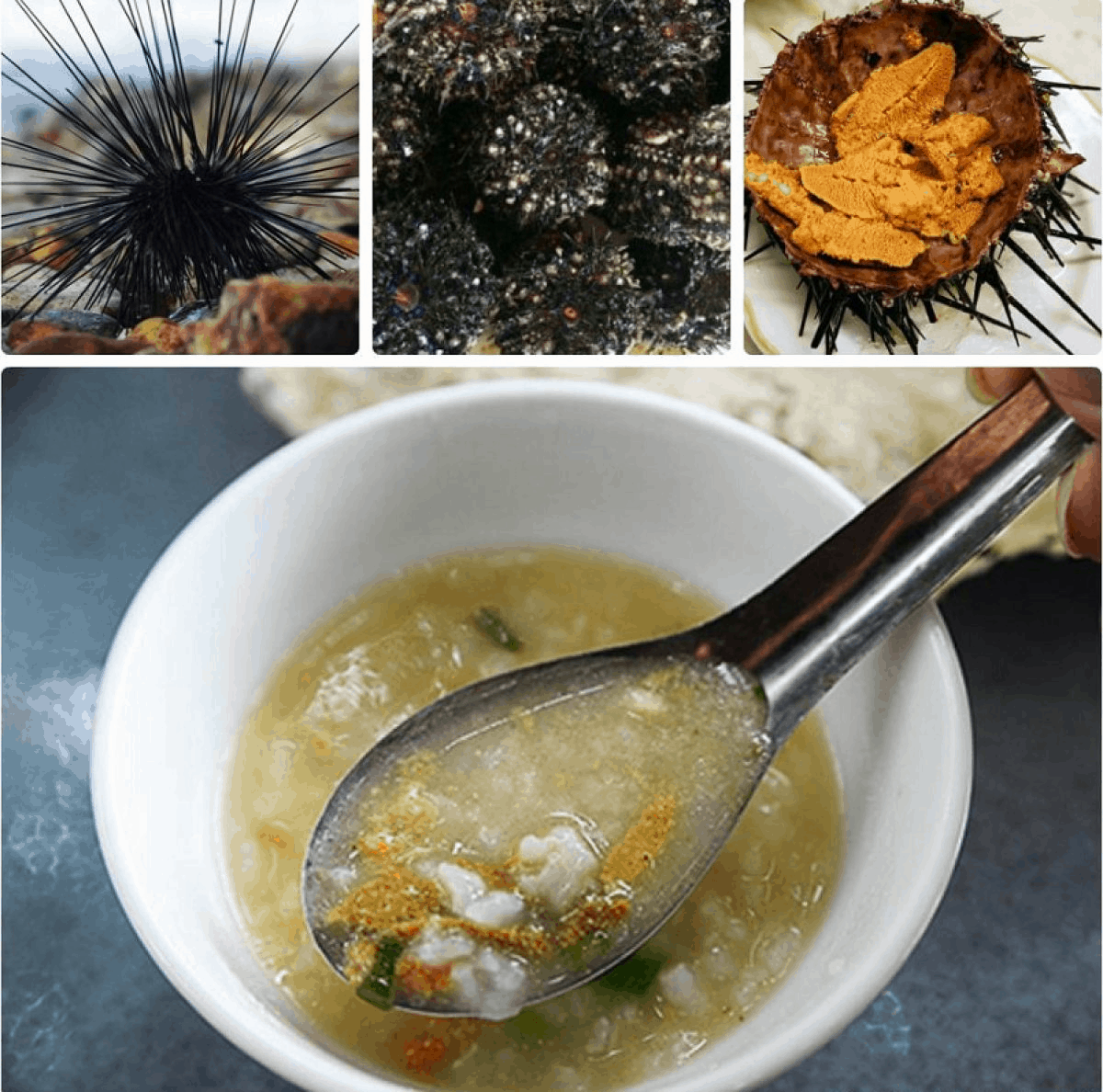 Ham Ninh crab meat is firm with sweet, fresh and delicious meat
It is a pity to go to Southern Phu Quoc Island without enjoying the crabs of Ham Ninh. Crab meat is firm, fresh and sweet. You can enjoy steamed crabs, boiled crabs, grilled crabs or crab porridge; they all are yummy.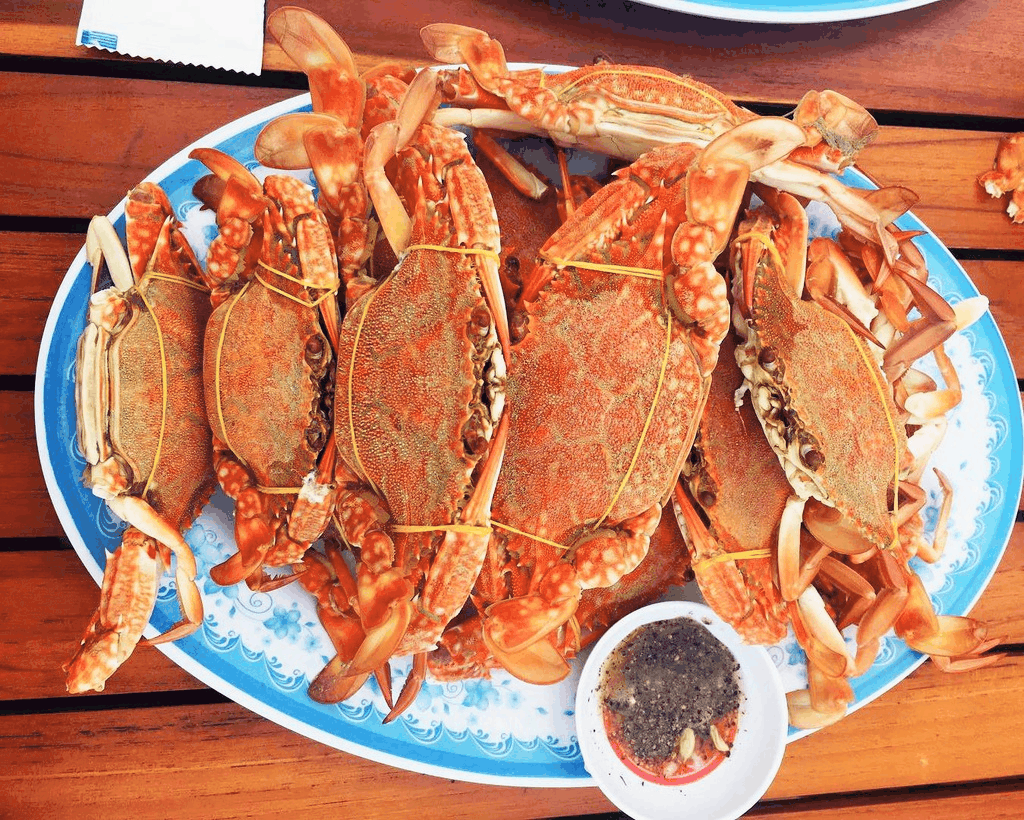 Accommodation in Southern Phu Quoc
Coming to the South of Phu Quoc Island, tourists can relax at 3 resorts with full amenities and world-class services: Premier Village, JW Marriott Phu Quoc Resort, Premier Residences Phu Quoc.
Premier Village – Villa area with unique sea view
With a golden terrain at Ong Doi Cape, Premier Village offers ocean lovers a beautiful setting, a place to watch both sunrise and sunset that is as unique as a fairy tale.
Premier has 217 luxury sea view villas and many 5-star utilities such as swimming pool, restaurant, entertainment… The price for 1 night here ranges from 5 – 10 million VND/villa.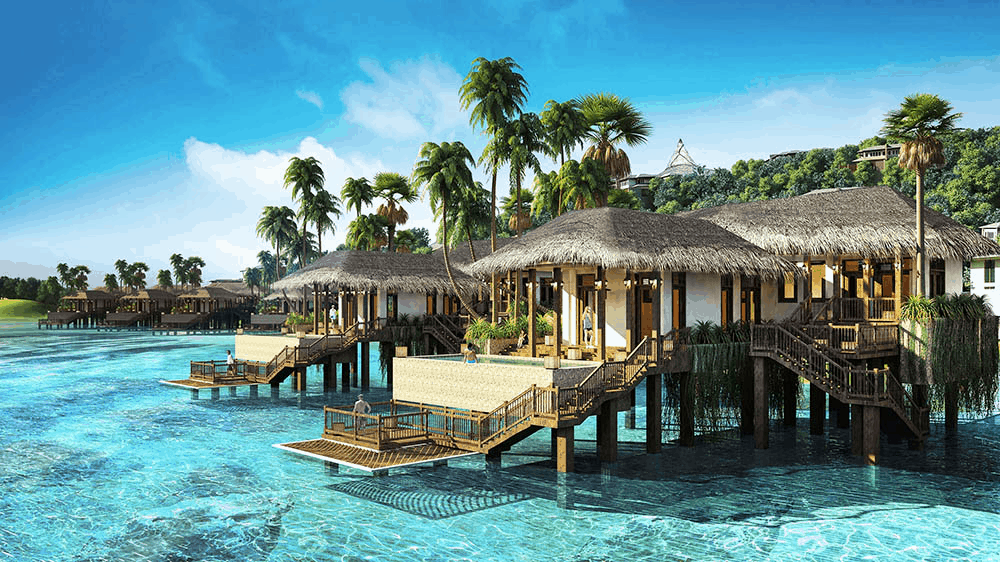 JW Marriott Phu Quoc luxury resort
Designed by the leading architect Bill Bensley, JW Marriott Phu Quoc Resort impresses with the sophisticated, classical French architecture. With 244 rooms, apartments, suites and villas with high-class amenities, tourists will have the best moments of relaxation than ever.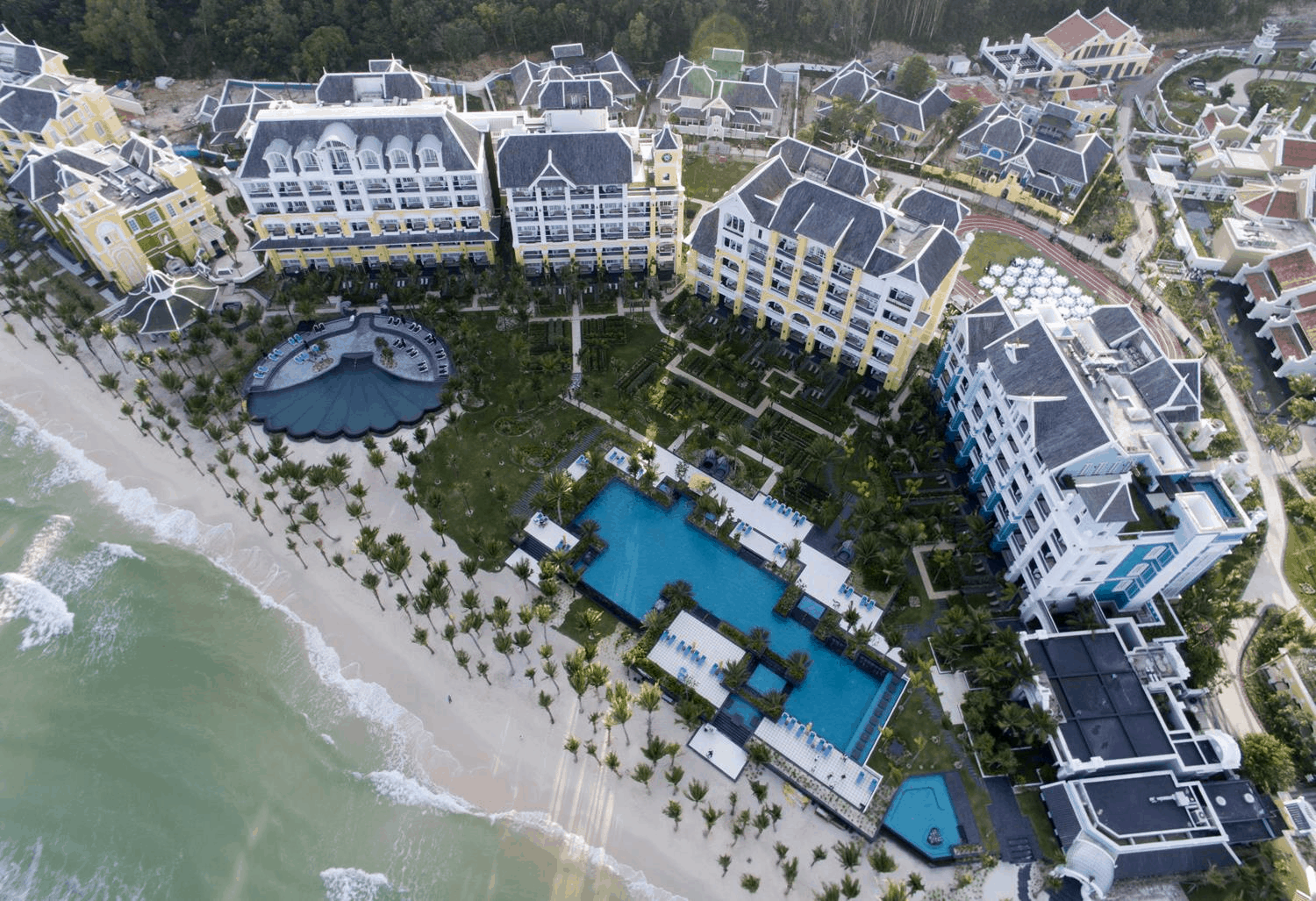 Premier Residences Phu Quoc – impressive "barrel of fish sauce" architecture
Your trip to the South of Phu Quoc Island will be more memorable than ever when you rest at Premier Residences Phu Quoc Resort. It has an impressive "fish sauce barrel" architecture with 355 sea view rooms and high-class amenities: swimming pools, restaurants, attractive entertainment services…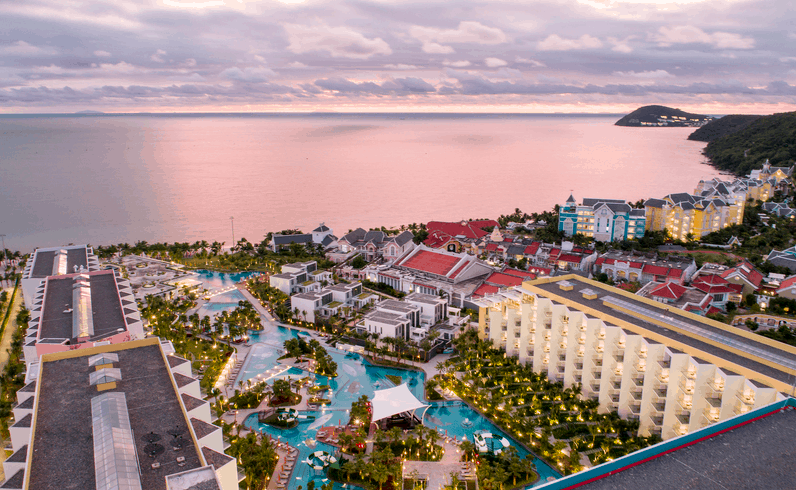 Notes when visiting Southern Phu Quoc
Here are important notes for the best Southern Phu Quoc adventure:
o You should spend at least 3 days 2 nights to fully explore Southern Pearl island.
o Bring slippers, comfortable clothes to move, play on the beach.
o Prepare sunscreen, a hat, and sunglasses to protect your skin.
o Phones, cameras, tripod are essential items for beautiful photos here.
What does Southern Phu Quoc have? It is beautiful nature, interesting entertainment spots, high-class resorts and delicious seafood dishes… Plan to explore Southern Phu Quoc with friends and relatives today!
In particular, do not forget to explore Sun World Hon Thom Nature Park – the most attractive destination of Southern Pearl island.