Located in the south of Phu Quoc Island, Bai Khem Beach, about 25km from Duong Dong town, always attracts visitors with a wild and poetic beauty named heaven on the earth. If you are planning to visit Bai Khem Beach – one of the most beautiful beaches in Phu Quoc, the article below will definitely be a great suggestion for you.
How to get to Bai Khem Beach Phu Quoc?
The road to Bai Khem Beach is very easy and convenient. If you like to freely explore nature and sky, a motorbike will definitely be the ideal companion for your journey.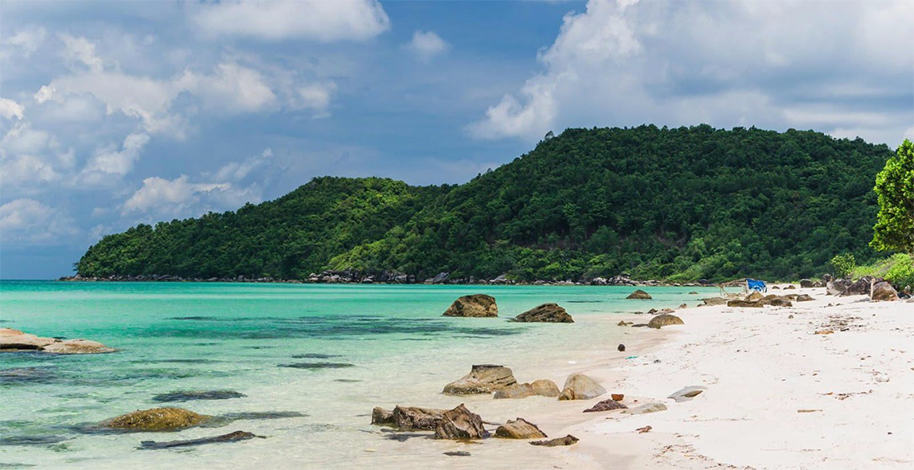 To be able to get to this place the fastest, you can follow 2 dirt roads connecting to DT46 Nguyen Van Cu National Highway. One is to follow the trail along Phu Quoc prison, the other is to choose the dirt road from Duong Dong town, you can recognize the path of this road because it is opposite the lovely cafe 253. These two roads are quite small, but you are relatively easy to go and is the choice of the majority of locals when traveling by motorbike to Bai Khem Beach. 
In the case of a lot of furniture or families with young children, you should rent a taxi to make it easier for you to travel. With this option, you should take the paved road from the JW Marriott Welcome Gate.
What to play at Bai Khem Beach?
Bai Khem Beach not only makes tourists "fascinated" by the wild and poetic beauty, but also by the wonderful experience of setting foot here.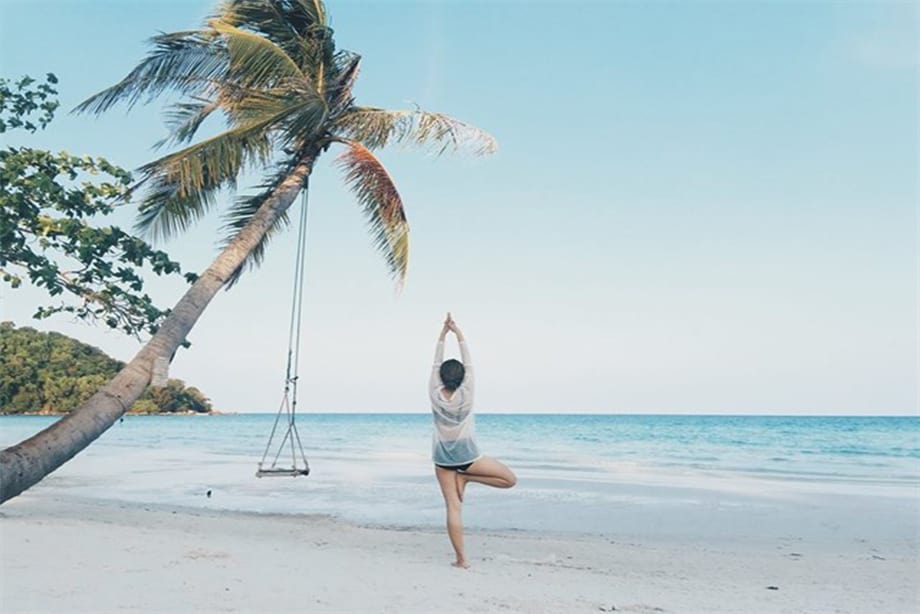 Immerse yourself in the pristine beach with pure beauty
The experience not to be missed when setting foot on the beautiful Pearl Island is Bathing at Bai Khem Beach. You can relax with warm water and pleasant breeze or admire the "Aquarium" underwater, clear sea water with colorful coral reefs, undulating rock rapids for you to explore the glorious ocean world. 
Pearl farming area with unexpected discoveries about pearl species
Coming to Phu Quoc, you must have heard about the famous Pearl Farm. If you are a jewelry lover, do not forget to visit the ideal location right next to Bai Khem Beach. Here, visitors will see the way people raise and harvest pearls. In particular, visitors can also buy quality, beautiful pearls – specialties of Phu Quoc as gifts for friends and relatives.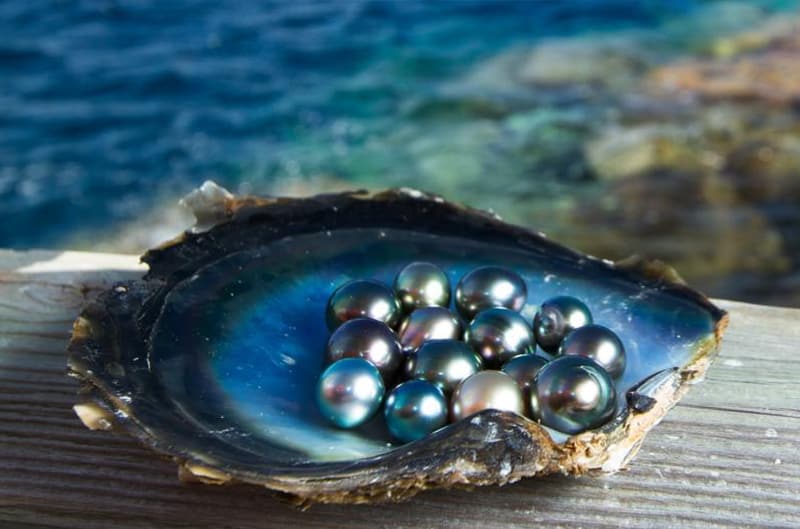 Ong Doi cape – where you can watch the romantic sunrise and sunset at the same point
Near Bai Khem Beach is Ong Doi Cape, a rare place in Vietnam that you can admire the sunrise and sunset on the same spot, it's interesting, right? You can feel the energy of the new day with bright and golden sun photos of the sunset on the vast sea with extremely "deep" and "cool" photographs. In particular, try the fishing experience here with relaxing moments, the precious peace or snorkeling to see the coral reefs to enjoy a "paradise of the world".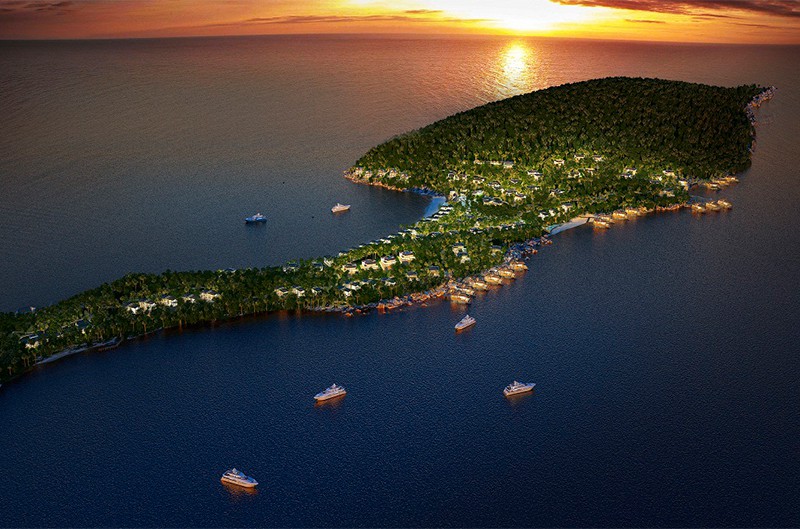 Gieng Tien (Fairy Well) – strange and full of mysteries
From Bai Khem, you can take a motor boat to visit Fairy Well. This is a very special fresh water well in Phu Quoc, even though it is located close to the coast of the waves, Fairy Well never gets saline, even when the tide is up to the edge of the water. Legend has it that Fairy Well never ran out of water even though it came from a small underground stream. In the eyes of the people of Phu Quoc, this is a sacred and magical well.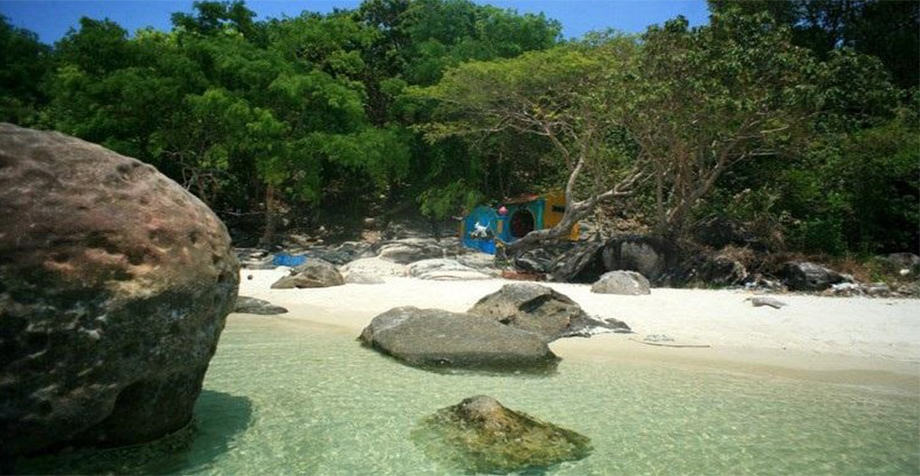 Gia Long Temple – a thrilling story
Besides, located right next to Fairy Well is Gia Long Temple. Visit these two locations to discover a thrilling story associated with King Gia Long's historical career!
Bai Sao – an arc shaped beach like a crescent moon
Coming to Bai Khem, visitors can move to Bai Sao – the most beautiful beach in Phu Quoc with a beautiful moon-like arc lasting 7km with white smooth sand as velvet. This scene will surely make you remember forever when you experience it.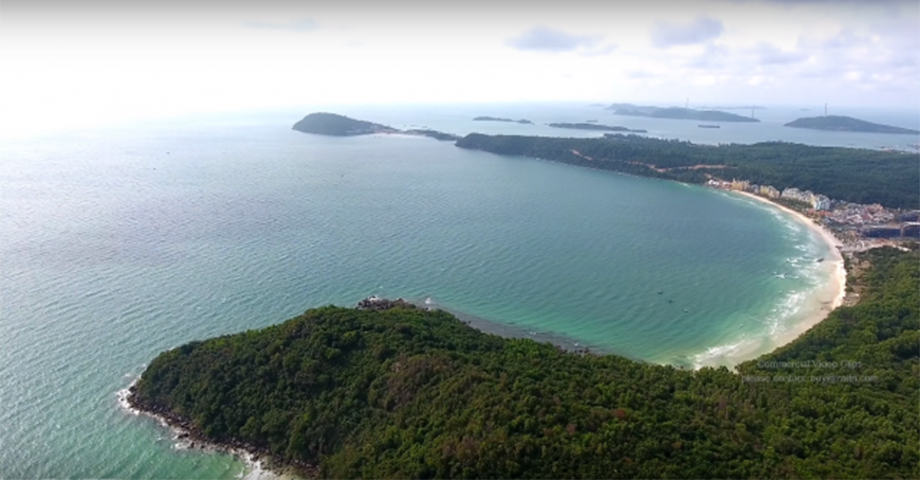 It can be noticed that, Khem Island as a rustic simple girl but makes visitors ecstatic, captivated with her own charm. When it is a thrilling legend in the old story, the romance in the sunset is the beautiful color of the pristine coral reefs. All combine to create a multi-colored Khem island, inspiring tourists to explore but cannot conquer to the end…
What to eat at Bai Khem? 
At Bai Khem, there are not many big restaurants but you can enjoy the rustic dishes of Phu Quoc culture from the local residents such as delicious herring salad of less than VND 120,000 per dish for about 2 people to eat.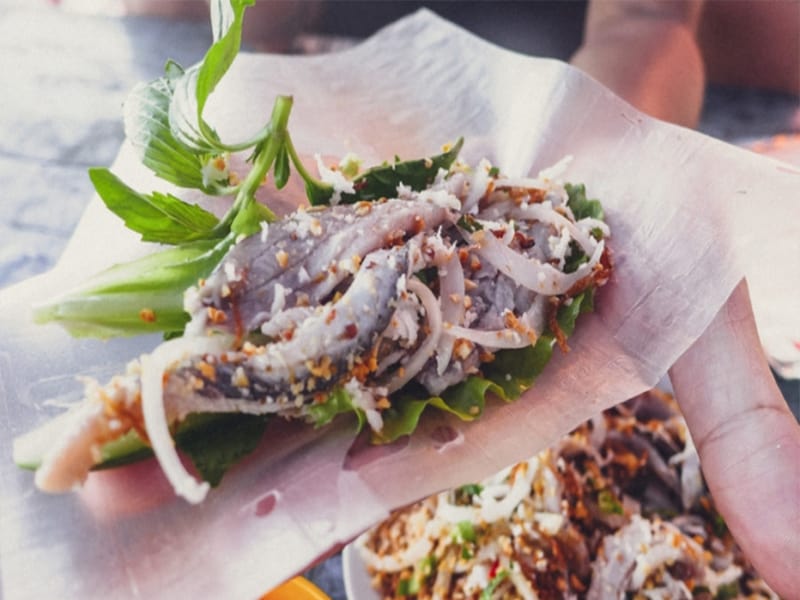 More specifically, you can buy seafood and rent a local to cook or choose an idyllic restaurant to enjoy fresh seafood from fishermen here at a reasonable cost.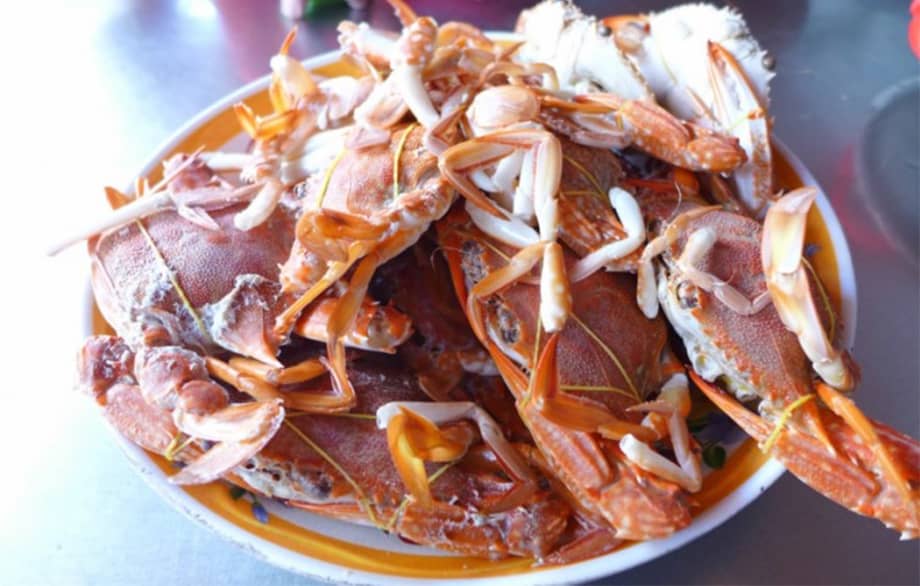 Phu Quoc Banh Canh (Phu Quoc noodle) – the next famous specialty that any gourmet to Bai Khem Beach should enjoy once in a lifetime. And trust us, you will find it worth it to choose this classic dish.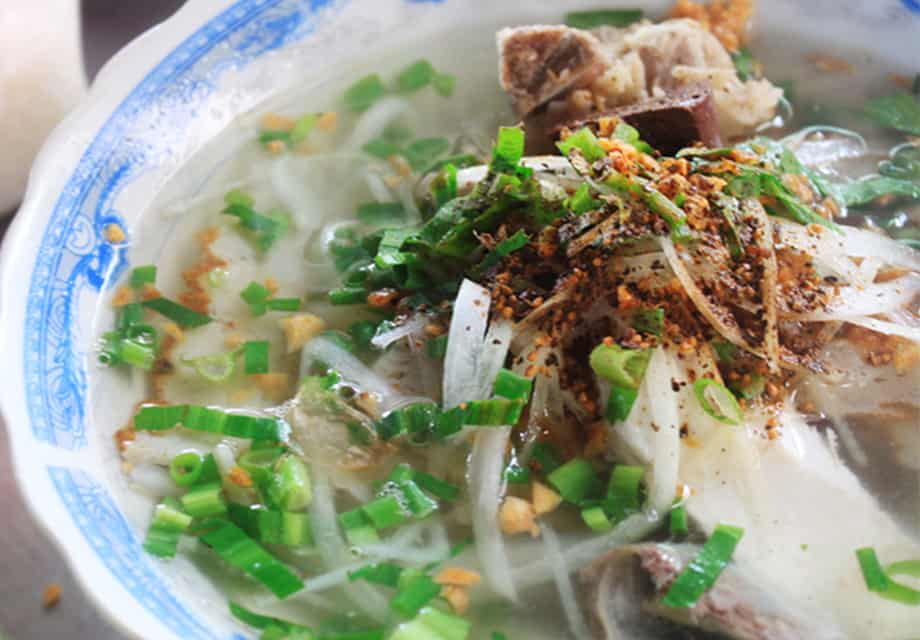 Accommodation at Bai Khem
At Bai Khem, there are not many resorts for you to choose. However, with 2 international-quality five-star resorts, Sun Premier Residences and JW Marriott, you will surely have an unforgettable impression.
Sun Premier Residences is a high-class resort with a unique design of "fish sauce barrel" with many convenient services to please every visitor.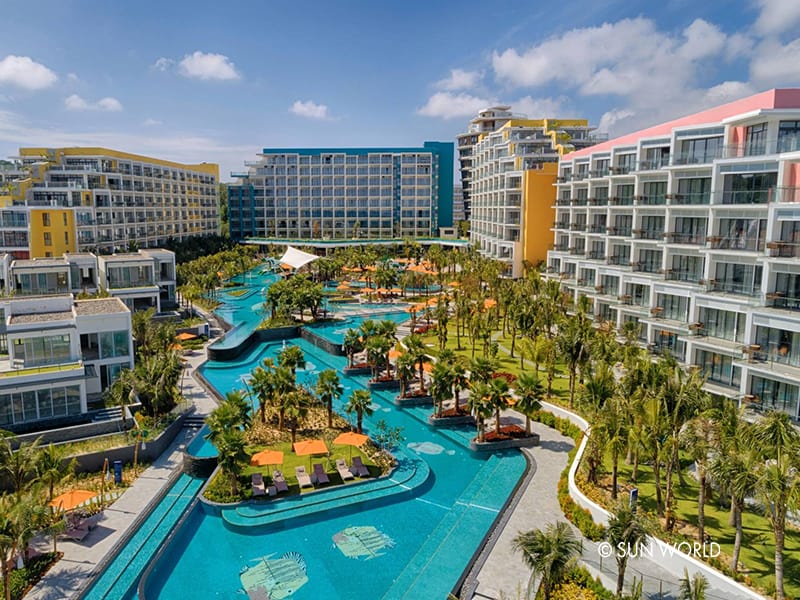 JW Marriott is luxurious every corner with a 5-star restaurant, a unique scallop-design swimming pool, an international-standard bar system and thousands of irresistible beautiful check-in points. Those who are passionate about tourism can hardly deny the beautiful, modern design of this resort. 
Tips when going to Bai Khem Phu Quoc
To get the best experience when coming to Bai Khem, visitors should note:
The best time to visit Phu Quoc Island and visit Bai Khem is from the end of October to April (September to March of the lunar calendar). This is the dry season, the weather is less rainy, the waves are calm, suitable for swimming and outdoor activities.

In contrast to the peak season, May to September will be the off-peak season, you can choose this time to save costs and relax by watching the sea with a lower density of visitors. 

Always carry your phone, camera to take beautiful photos at this top "chilling" beach in Phu Quoc.
MORE SPECIALLY! Come to Bai Khem do not forget to take the time to visit Hon Thom Island to experience the poetic and beautiful space of nature, to experience the vibrant game world at Aquatopia Water Park. Hon Thom is famous for the longest three-wire cable car system in the world, interesting beach games on BaiTrao, a rich system of food restaurants with extremely affordable prices.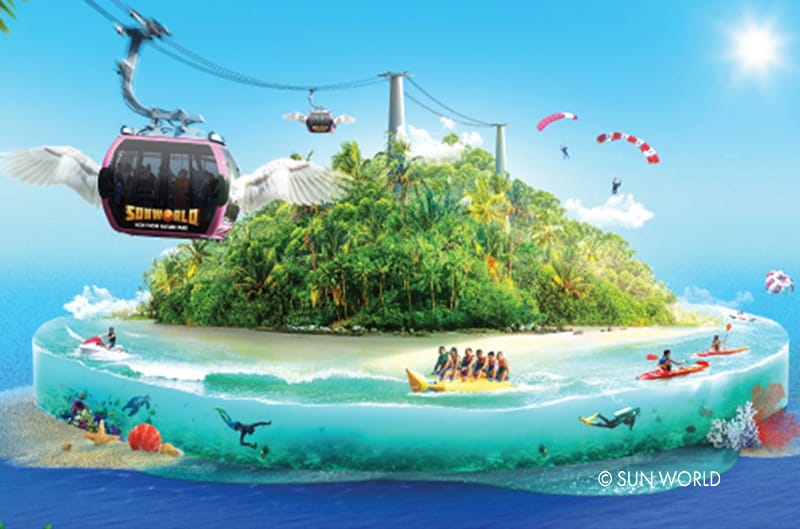 Aquatopia is the largest water park in Southeast Asia opened in December 2019, extremely exciting with 6 different themed zones for check-in photos and thrilling games and 21 modern games, including 3 games first appeared in Vietnam will surely make you experience all kinds of emotions from fear, excitement to suspense and excitement.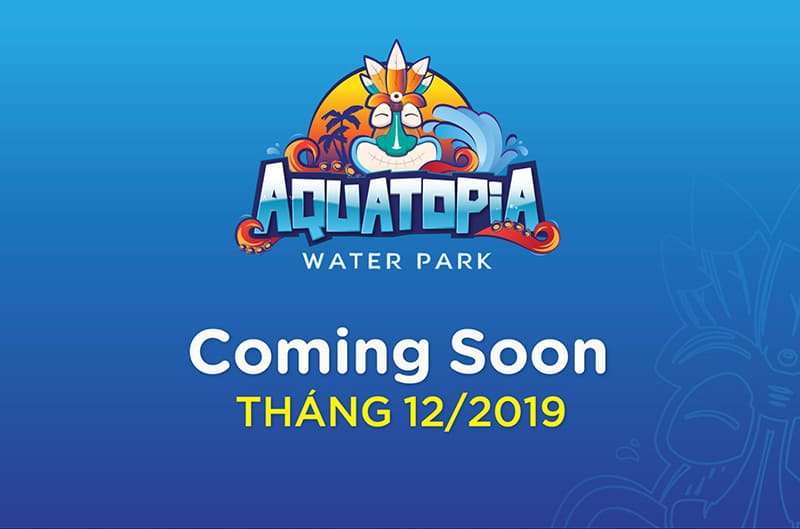 Phu Quoc pearl island is famous for its pristine beauty, beautiful nature and unique tourist destinations. Ranked 43/50 top most beautiful beaches in the world 2018 (According to Flight Network, Canada), Bai Khem is definitely a tourist destination not to be missed when visiting the beautiful Pearl Island.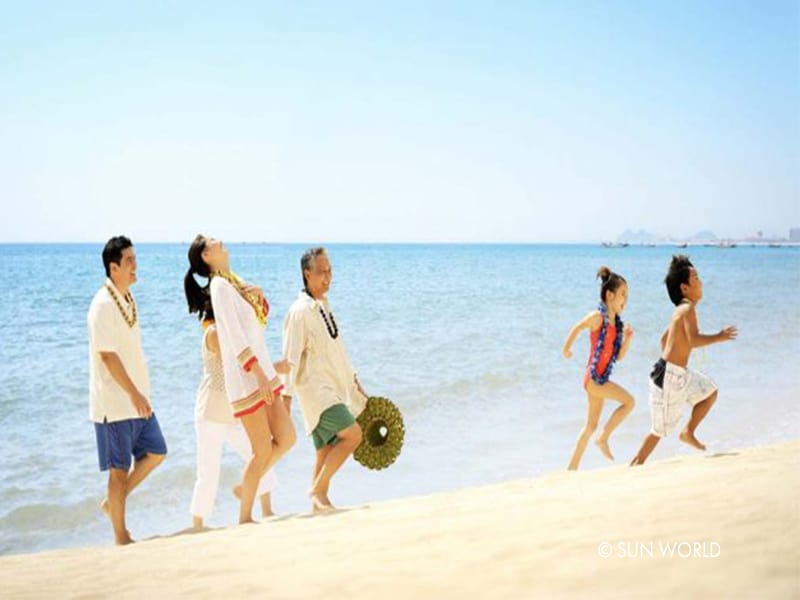 Hopefully our honest sharing in this article will make your visit to Bai Khem Beach more complete and perfect.
Thank you and see you again!