An exciting journey to discover Aquatopia Water Park cannot help but mention the attractive dining spots. If you are wondering what to eat at Aquatopia Water Park, discover 5 dining places right here at the water park to have an exciting and complete journey!
Sun Buns – Paradise of fast food and desserts
Location: right next to Monkey Beach and family Playground
Serving: Burgers, cakes, fried chicken, beer and drinks
Price: Price: From VND 55,000 – VND 230,000 for fast food. From VND 20,000 to 65,000 for drinks and desserts.
Sun Buns is famous for its new, attractive Western fast food menu and unique aboriginal style architecture.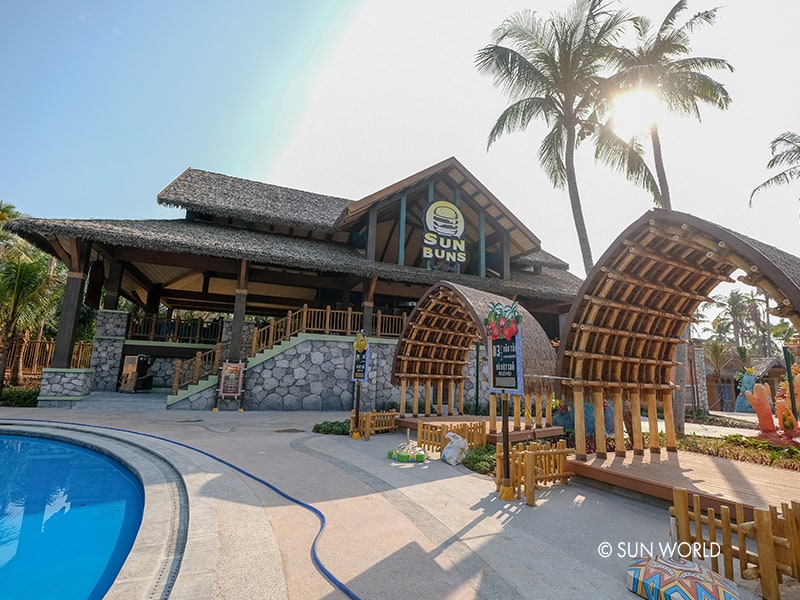 Sun Buns is located right next to Monkey Beach. To get here, from the fountain plaza right in front of the park's gate, tourists will turn left and go through the game parks to see the Sun Buns restaurant right next to the Family Playground and Monkey Beach.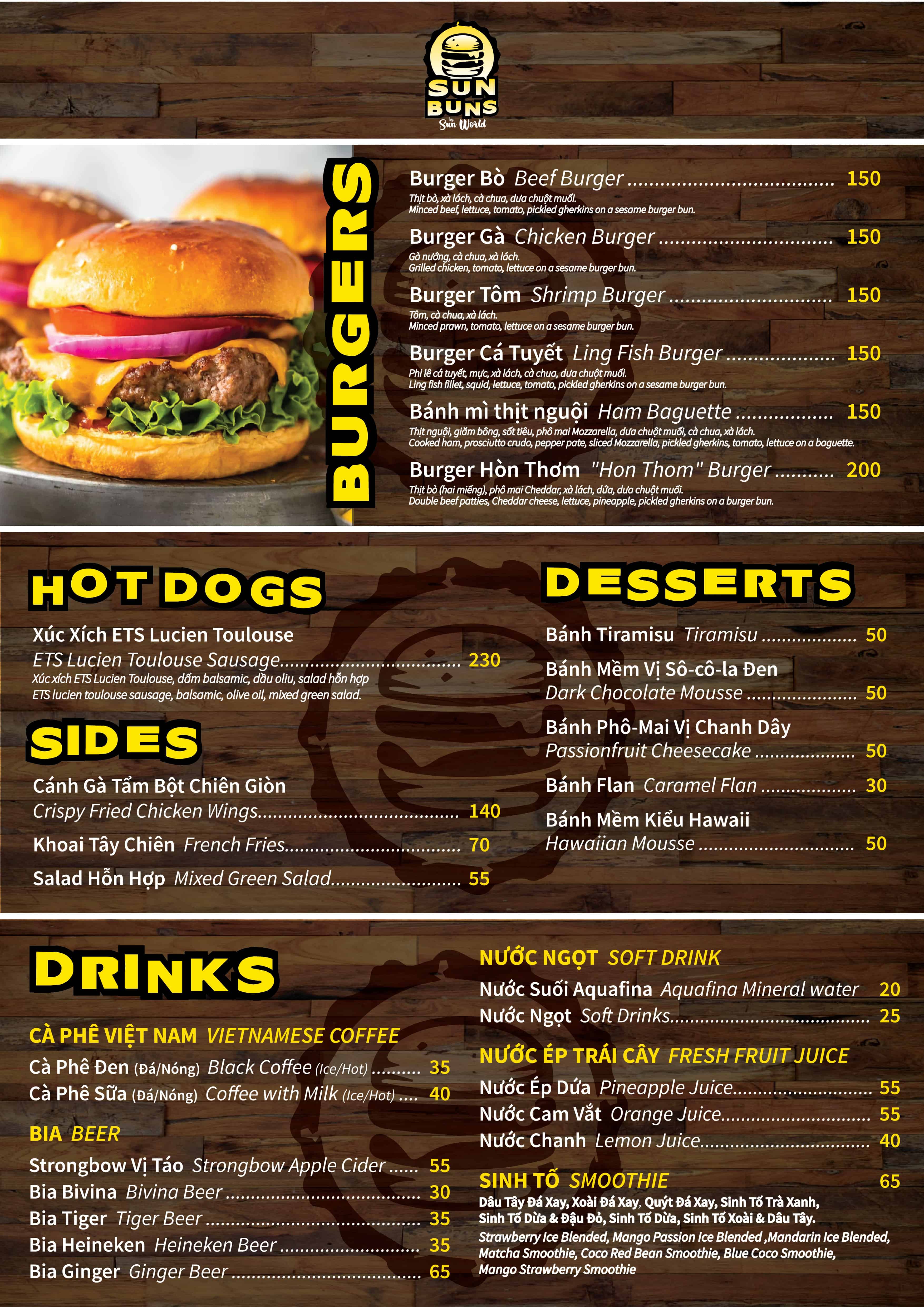 This is an ideal place for families to take a break or tourists who do not want to spend a lot of time eating. Fast food at Sun Buns is always satisfied with the majority of tourists with unique "Hon Thom" burgers, cakes, fried chicken and other attractive fast food.
Sitting at Sun Buns, you can admire the meticulously decorated, eye-catching landscapes of Aquatopia Water Park.
Golden Beans – Sublimation place of true coffee devotees!
Location: Aquatopia Water Park Center
Serving: coffee and cakes
Price: VND 20,000 – VND 65,000
Golden Beans is located in the heart of Aquatopia Water Park. From the park's welcome gate, tourists just go to the fountain and cross the bridge to reach this wonderful cafe.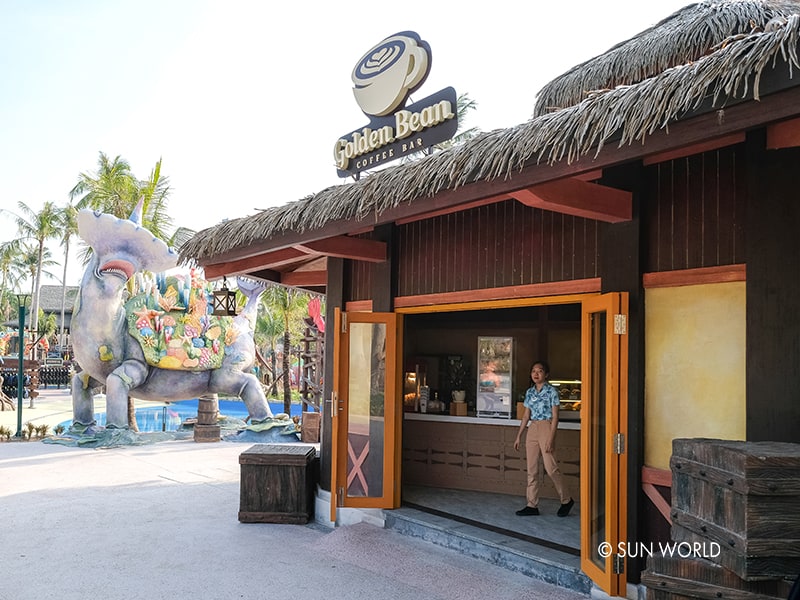 Not only the tasty, delicious Vietnamese and Italian cups of coffee, Golden Beans is also a paradise of Muffins, Donuts… and extremely eye-catching decorated delicious drinks.
Go to Hon Thom Aquatopia and enjoy the food now!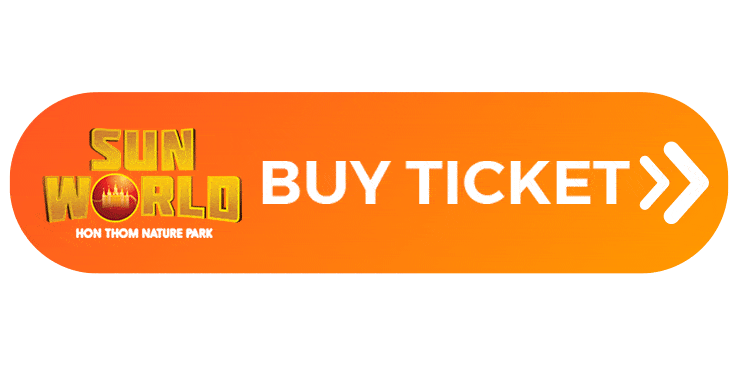 Centrally located, while sitting at Golden Beans, you can enjoy the entire view of the wonderful modern Aquatopia Water Park. It is the winding Lost Lagoon, the unique Roman-style fountain or the super cool pirate check-in area. Golden Beans is the right choice not to miss for what to eat at Sun World Aquatopia Water Park.
Sunny Bros – sanctuary of ice cream and tropical Milkshake
Location: next to Sea Dragon
Serving: ice cream and milkshake
Price: VND 20,000 – VND 65,000
Sunny Bros is famous for its cool, colorful, ice-cream cones and tropical-colored Milkshakes at Aquatopia Water Park.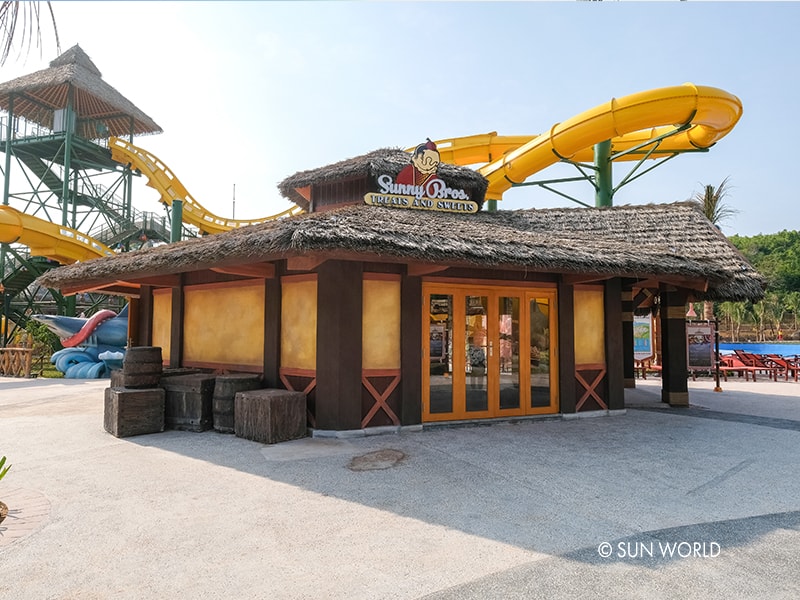 The way to here is also very simple. From the fountain, tourists can go to the right, tourists will see Sunny Bros is located next to the game area of ​​Sea Dragon and Paradise Bay. With a simple but impressive design and enthusiastic waiters, Sunny Bros always brings special and interesting experiences.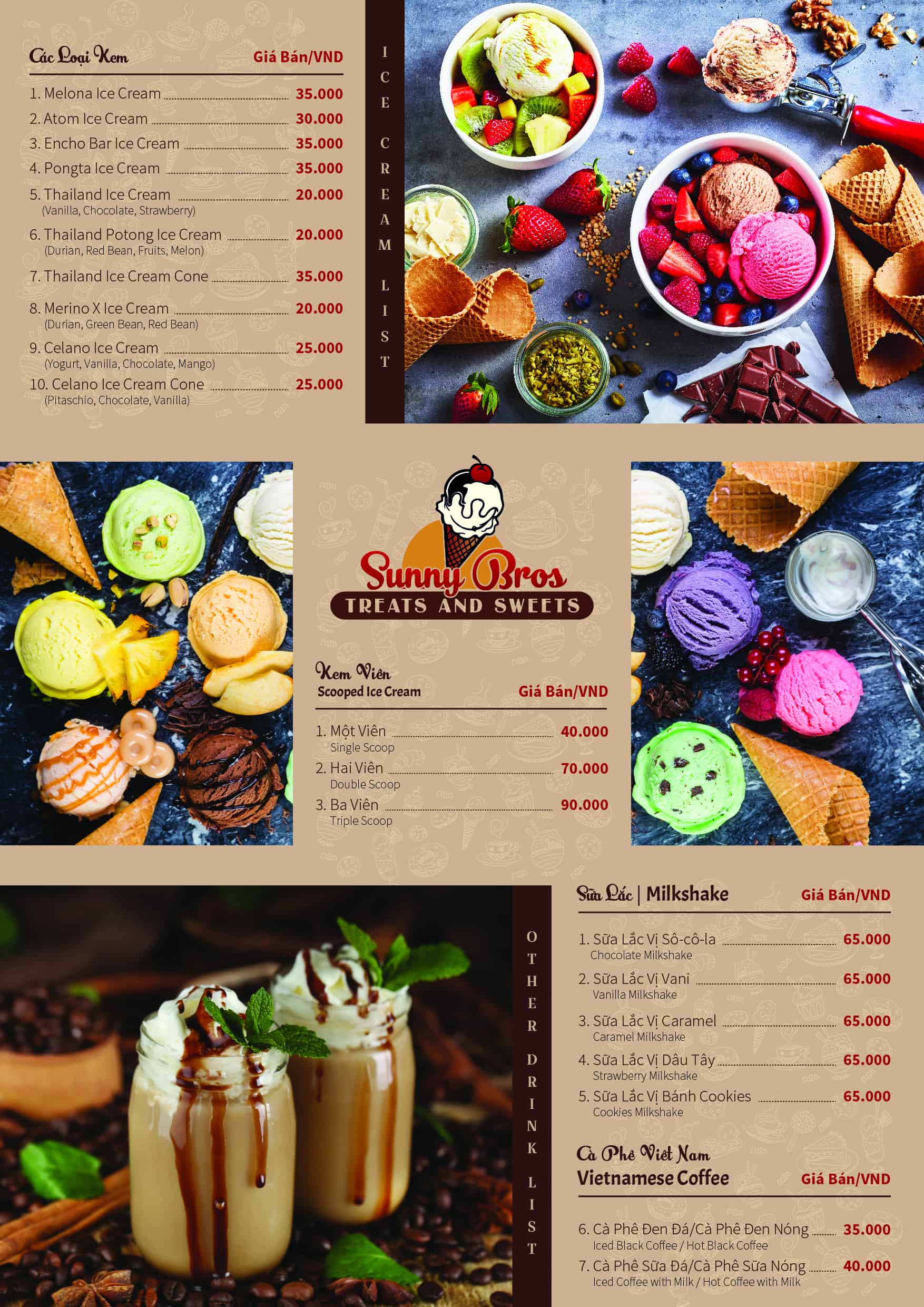 The price of Sunny Bros is quite reasonable, ranging from VND 20,000 – VND 65,000. After the energetic activities at 21 thrilling games of Aquatopia Water Park, this will be an ideal stop for tourists to enjoy the cool ice cream flavor, sip unique Milkshake and admire the landscape of the scary sea monster area around Sunny Bros.
Slice of Paradise – The mysterious land of Pizza lovers
Location: Aquatopia Water Park center, near the fountain
Serving: pizza, spaghetti, sausages, drinks and desserts
Price: VND 20,000 – VND 230,000. Pizza VND 199,000/e.a.
As an indispensable destination for Pizza lovers, coming to Slice of Paradise, tourists will be free to choose and enjoy the attractive, aromatic, yummy pizzas that are fueled by the energy-wasting fun at Aquatopia.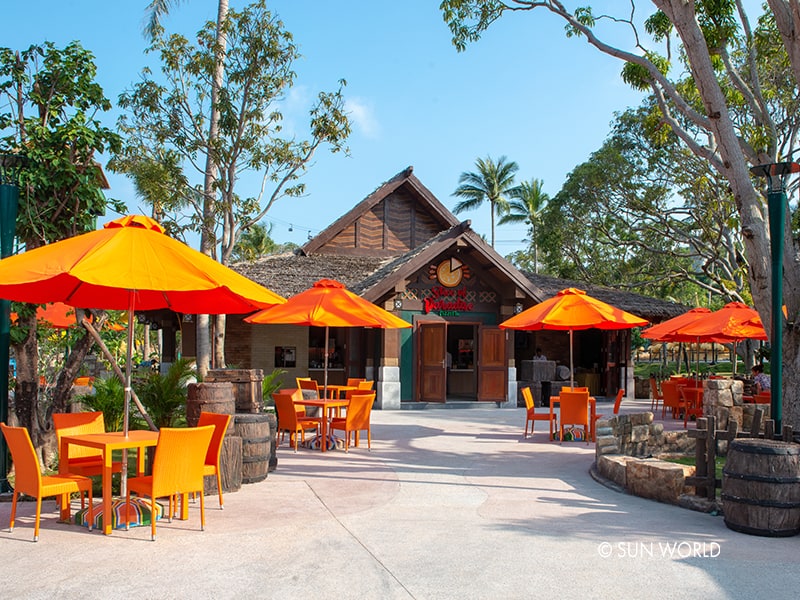 Slice of Paradise is located close to Golden Beans at the heart of Aquatopia Water Park. From the fountain, tourists just need to cross the bridge and turn right to this pizza land. All the pizzas here are suitable for 4-5 people, the price of 199,000 VND/e.a., surely you will never forget the great taste of pizzas here.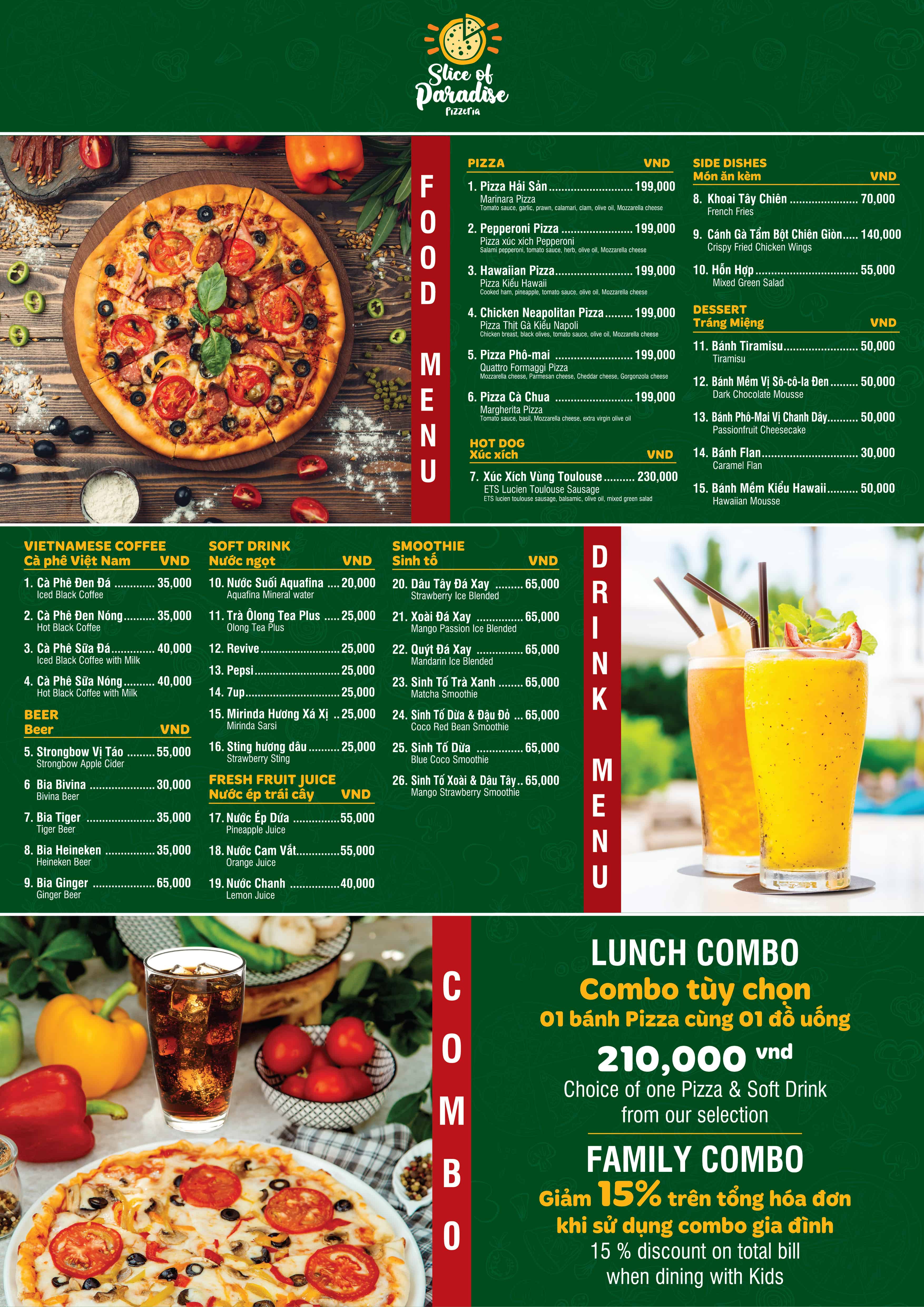 Slice of Paradise also serves other foods such as sausages, desserts, and other side dishes to make your meal more attractive and perfect. The cost is only VND 20,000 – VND 230,000. With its affordable, Slice of Paradise is extremely suitable for families, couples and groups of friends to visit and experience a delicious and attractive meal.
Jungle Juice – A refreshing tropical drink bar
Location: Next to the Snake Fight
Serving: drinks, juices.
Price: VND 40,000 – VND 65,000
The tropical style of Jungle Juice makes any visitor feel comfortable, relaxed, regained after experiencing the most modern thrilling games in Aquatopia. It serves fresh and delicious fruit ice blends and sweet juice glasses.
To come to Jungle Juice, just turn right at the fountain and go straight down the path to see Jungle Juice stand out in the unique space of Aquatopia. The reasonable price of only VND 40,000 – VND 65,000 makes Jungle Juice highly appreciated by many tourists.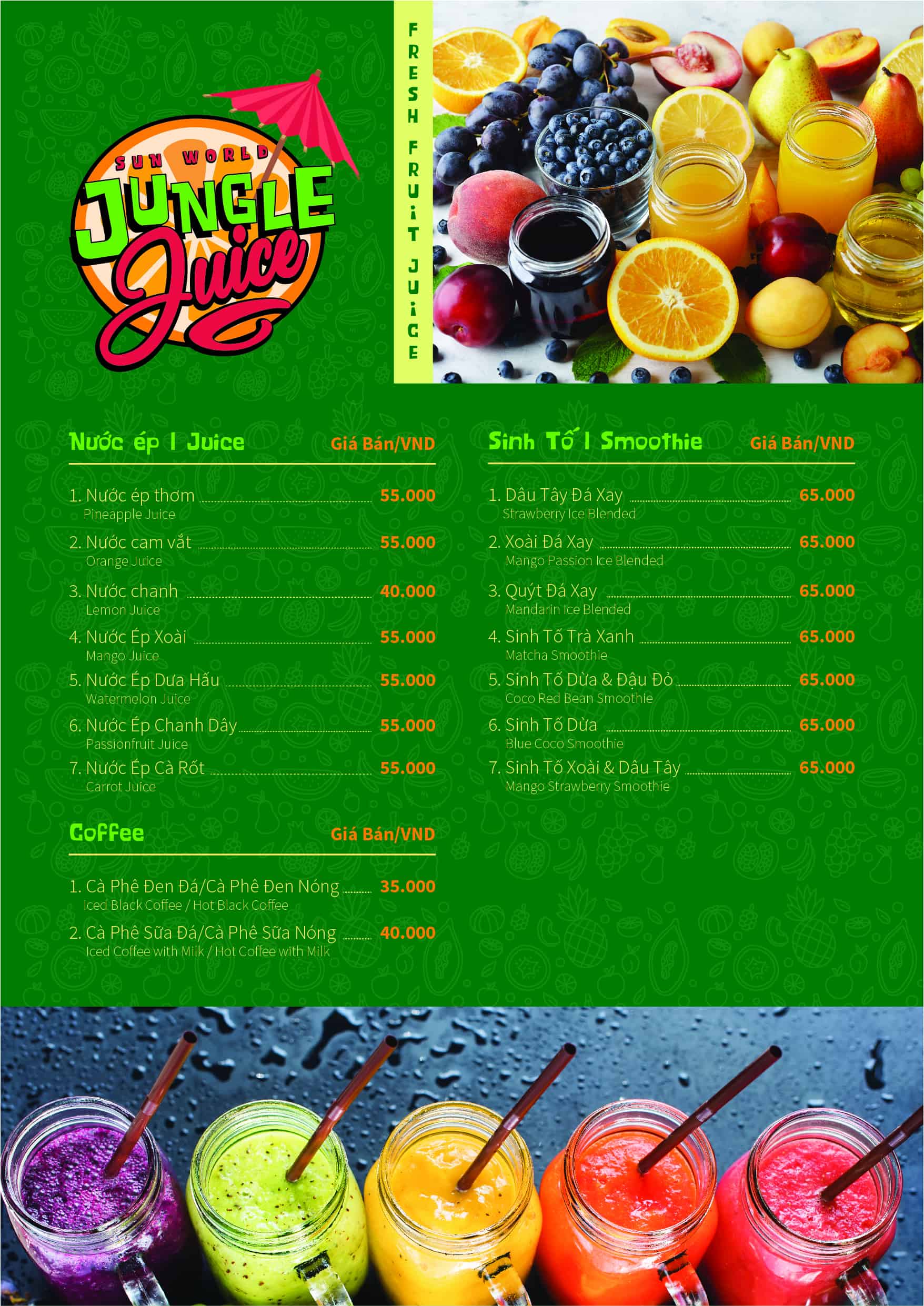 Jungle Juice is located next to the sun loungers, where tourists not only feel the tropical breath from the juices and fruit ice cream, but also watch the sea monsters and aquatic space of Aquatopia. It's giant octopus, or thrilling games all around. The hours spent here will become more valuable than ever.
Sun World Aquatopia is not only famous for 21 unique thrilling games and 6 beautiful check-in points of aboriginal style, but also "wins the heart" of tourists with an attractive cuisine area. Do you have the answer to the question "What to eat at Aquatopia Water Park?" Do not forget to visit 5 "very cool" places to eat in the journey to discover Aquatopia.